It seems as if every DNA and genealogy company is unveiling wonderful new features this week at RootsTech 2019 which makes me wish I was there. It will take me many posts to cover all the ones that excite me!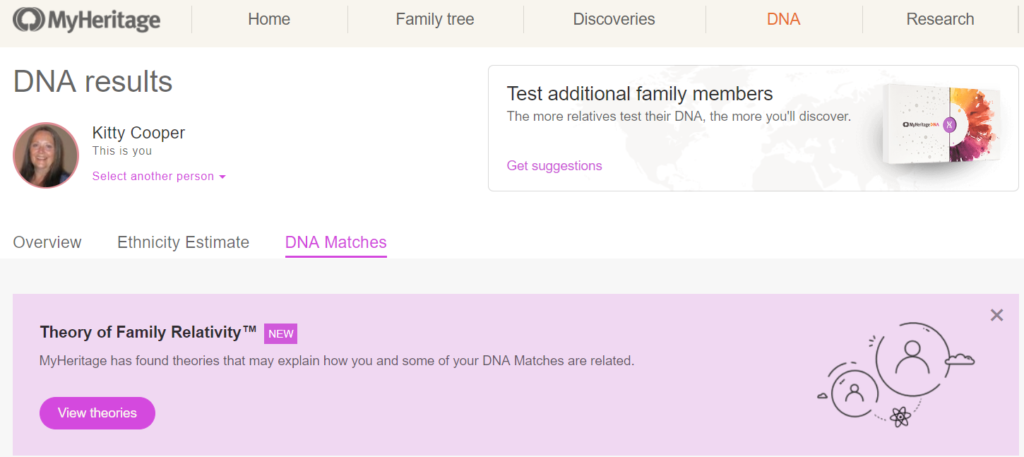 MyHeritage has just unveiled a cool new feature called the "Theory of Family Relativity." The idea is to look at your tree and other trees in their database to see if the computer can figure out how you are likely to be related. When you click on the big pink View theories button at the top of your DNA matches page it will show you just the DNA matches for whom it thinks it has found the relationship.

What is exciting and different about this offering is that when you click on the "View theory" in the listing for a match it offers you several paths to view a graphical representation of the possible relationship including percentages of accuracy. It also indicates the trees or records the deduction was made from. Here is how it shows that with a known 5th cousin of mine. I had not known that she had tested nor had I been in touch, although I knew her family.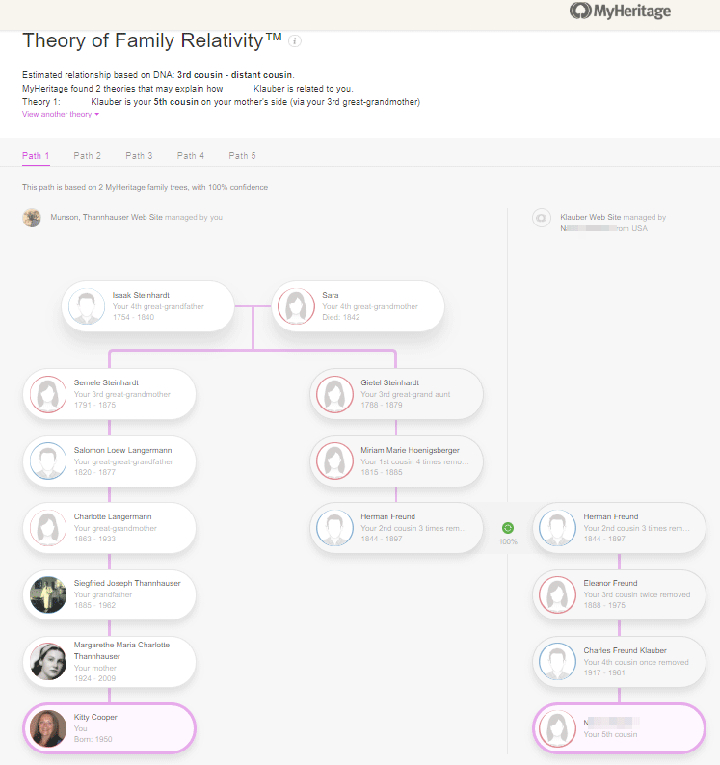 If you go to the match page of a match that has a theory, it will show you a compact view of the expected relationship at the top of the page without the tree names and percentages however it includes a click point to see the full theory.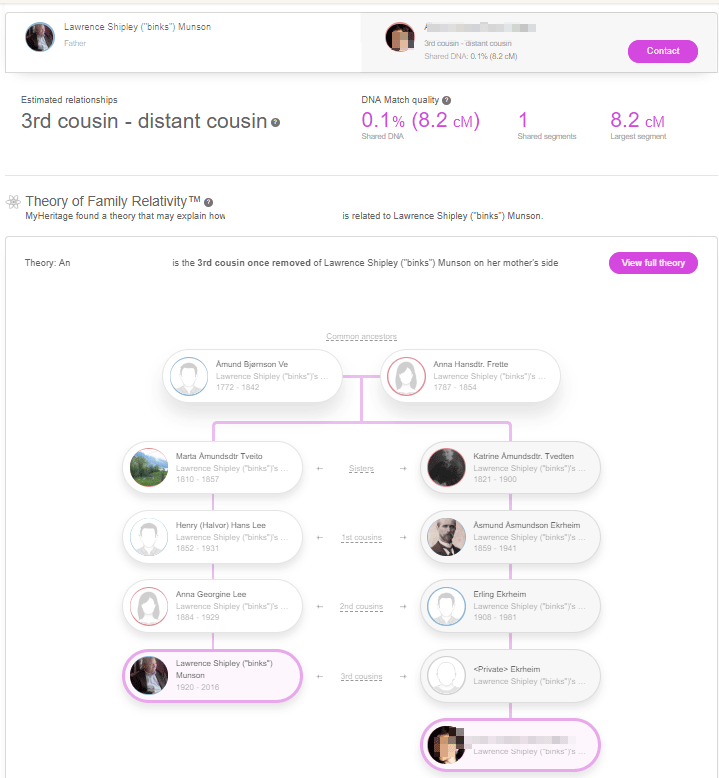 Many of these theories take three or four trees to come up with the relationship unlike my Klauber cousin above. Here is an example perhaps too small to read (click on it to see a larger version)

My Norwegian father has 32 matches with relationship theories while I have only 13, Five of these I already knew about plus another one of his. Of the other eight, most are accurate except where there are errors in the trees used. I sent several messages asking for corrections already! However it may be several days before I finish working through my Dad's matches.
The incorrect path usually happens when my ancestors were married more than once and the other tree has the wrong spouse as a parent.
Another problem I have is that my great granddad Henry H Lee, Hans Halvorsen Skjold in Norway, used different birth dates in every record and my 2nd cousin has his brother Halvard's name listed for our great grandad in his tree which then matches to other trees incorrectly. All because my great grandad used his brother's birth year. Click here for my blog post about that mystery.
Of course once one tree has an error, then more trees pick up that error. I can see that I will be sending many messages in the next few days, first however, I will connect with my new found distant cousins!
UPDATE 28-Feb-2019: This new feature is only available for users who have a site subscription or have uploaded their DNA and then paid the $29 to unlock all the DNA features. Click here for the blog post at MyHeritage which explains that and has more details about this feature.