There is a new tool, a chrome add-on called DNArboretum, that will generate an ahnentafel ancestor list from a Family Tree DNA tree or from the old format 23andme tree (not myHeritage).
An ahnentafel is a very clever and condense way to show all your ancestors. When trying to match up with a DNA relative it is particularly useful since you can quickly scan their ahnentafel for places and names in common. Obviously it would be better to automate that comparison but with misspellings and Norwegian names that has not worked well for me. However it might work for you, so click here for my blog post about how to use automation to compare GEDcoms.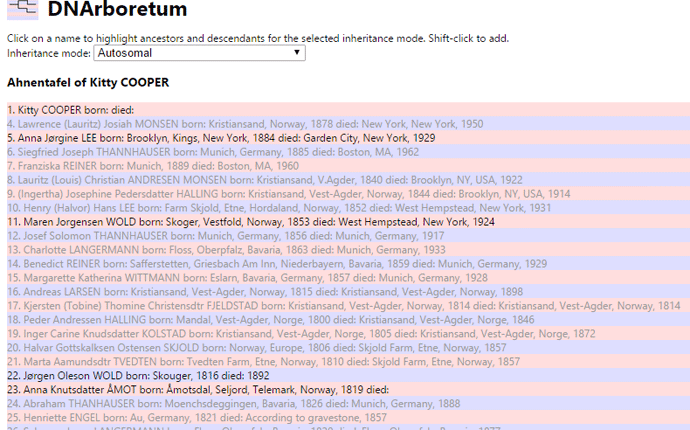 This is part of my ahnentafel as generated by DNArboretum from my tree at Family Tree DNA when logged into another account there. I clicked on my great grandmother Maren Wold and it bolded all her ancestors and descendants. Note that my parents are missing because they are marked private.
Sue Griffith of Genealogy Junkie has blogged in detail about how to install and use this tool at
http://www.genealogyjunkie.net/blog/dnarboretum-a-great-free-google-chrome-extension-for-viewing-trees-on-23andme-old-style-trees-and-ftdna
What is an ahnentafel you may ask? It is a numbering system for your ancestors where you are number one, your dad is two and your mom is three. Every person's parents are twice his or her number for the dad and the mom is plus one from the dad, so all men are even and women are odd.
Dick Eastman explains what an ahnentafel is really well in his Ahnentafel Explained article and Stephen Morse has a cool ahnentafel calculator where you can put the ahnentafel number in and get the relationship back or input the relationship and get the ahnentafel number at http://www.stevemorse.org/relation/ahnentafel.html
Since I am visually oriented and a web designer, I made myself a condensed HTML table of ahnentafel numbers and used pink for the ancestors who can give me, a woman, some of their X DNA. Here is how it looks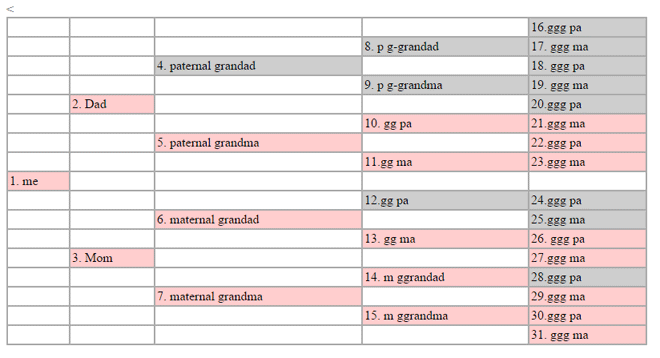 There is also a word version of my chart. Both are available for your use in my downloads area. But if you want a really nice looking chart to print and fill in, this PDF one from the DAR is lovely http://www.dar.org/sites/default/files/RGG-1003.pdf
So I went to Family Tree DNA and used this tool to get the ahnentafel of several unsolved cases of DNA 2nd to 4th cousins for my Dad. Sometimes it worked right away and other times it seemed to want me to select the main person. Perhaps having so many windows open was my issue or forgetting to set the ancestry view. However with a little fiddling I always got the listing and it was quick, once it was happy.
It is certainly wonderful to have a list of my potential cousins' ancestors so I can quickly scan for matching names or places. Not only that, but I can make a list of mine this way and send them along to DNA cousins.
Although the common ancestors were not found in those cases I was interested in, having locations gives me some ideas on where to look to further do the genealogy research.
One last thought, to automate comparisons you could turn the ahnentafel into a GEDCOM. This program, not free but inexpensive, claims to do that http://biografiasygenealogias.weebly.com/ but I have not tried it. If anyone has used it, I would love to hear from them.
UPDATE 9/28/16
To get more than 32 people you have to select more than the default four generations at family tree DNA.
I did finally code up an ahnentafel to gedcom converter and it is listed in my tools here: http://blog.kittycooper.com/2016/10/text-to-gedcom-using-ahnen2ged/