Janice was searching for her biological father. Her Ancestry DNA test had found what looked to be an aunt or half aunt, " Sally," and also a half uncle, "Trevor," who did not match each other, both about 20 years older than Janice. So likely each of them was related to one parent of the unknown father. This could be easy! But wait…
Notice the difference in matching DNA and that they are both listed as 1st-2nd cousins. Yet both are in the range for half aunt/uncle (500-1446 cM). Although other relationships, like first cousin were possible, they did not fit the known facts or the matching to common relatives. Trevor's second cousins shared with Janice were all showing as third or fourth cousins to her, suggesting one generation of difference. The same was true for Sally's closer cousins: her firsts were coming up as Janice's seconds.
Trevor, born 1945, had just discovered via his Ancestry test that the father who had raised him was not his biological dad. His dad was actually his stepfather; he had adopted him when marrying Trevor's mother. Sadly she was no longer available to tell Trevor who his birth father really was and the father of record did not fit the DNA evidence.
Sally knew that her mother had given birth to a boy in 1944 that had been adopted out. This child was not the son of the man she later married; his father was unknown. Sally had tested her DNA hoping to find her half brother and was excited to have found his daughter!
The problem here is that since Janice's father is that adopted half brother, there may be no way to track him down. The best I could do for Janice was to find Trevor's dad and Janice's paternal grandfather via DNA. Since he had deep American roots it took less than four hours! That is of my time, but actually a day and a half of elapsed time.
Here is how it was done.

First, taking a look at the matches Trevor and Janice shared, there were seven third cousin matches, only one with a good tree (thank you Paula). Of the 275 common fourth cousins, the highest one had enough of a tree for Sally to have already found a common ancestral couple with Paula, surname Collins (all names in this article are fake for privacy). Note that the large number of fourth cousins made colonial ancestry very likely.
I went through all those common cousins and starred them while watching TV. Actually, once I got down to 30cM I started starring only the ones with trees. My fingers were tired … The reason to star the common relatives was to make it easier to use various tools on just the shared matches. I had Janice run a cluster report from Genetic Affairs for just the starred matches. Cluster One was clearly the Collins group but the next few clusters had no good trees nor surnames that stood out.
Next I used GWorks to make a database at DNAgedcom of the trees of Janice's and Trevor's common 3rd and 4th cousin matches. (click here for my blog post on how to use just the shared matches). Sadly most of these matches had either no trees or tiny trees, which meant that no other clear cut ancestral couples turned up. There were no ancestors in the database more than twice.
One possible next step would be to use pedigree thief and my DNA2ged tool to get more trees from the Ancestry unlinked trees to add to GWorks (click here for that post). For some cases I go to the MyHeritage and FamilyTreeDNA trees to get even more trees for the database.
However in this case, I noticed one unusual surname, Siberling, high up in the common surnames list, so I decided to build down from the common ancestral couple Sally had found, keeping an eye out for that name. I did this tree building as unconnected branches in Janice's tree so that it would be easy to connect this information back in later, if a good candidate was found (and again while watching TV –  PBS newshour). By the way, DNA2tree, the new tool for iPads and iPhones, can also work with just the starred, aka the favorites list, so might have been a faster way to build those trees.
The technique I use when building down from just one common couple is to check the surname of each child's spouse against the GWorks frequent surname list. There were six Collins children, a few of whom had spouses with surnames in the list. I built those trees down but soon the surnames petered out. Finally at the fourth son of the sixth child, I found a Collins who had married a Siberling and had even died in the right state. He had only one son who was the right age and in the right place at the right time! Eureka! Not surprisingly this WWII vet was no longer living. Lets call him Roy.
Next I built Roy's pedigree tree back to about 1800. Then I gave him a fake brother with the same parents and made this fake brother Janice's dad in her tree (her DNA was already attached to her tree which had her mother's family).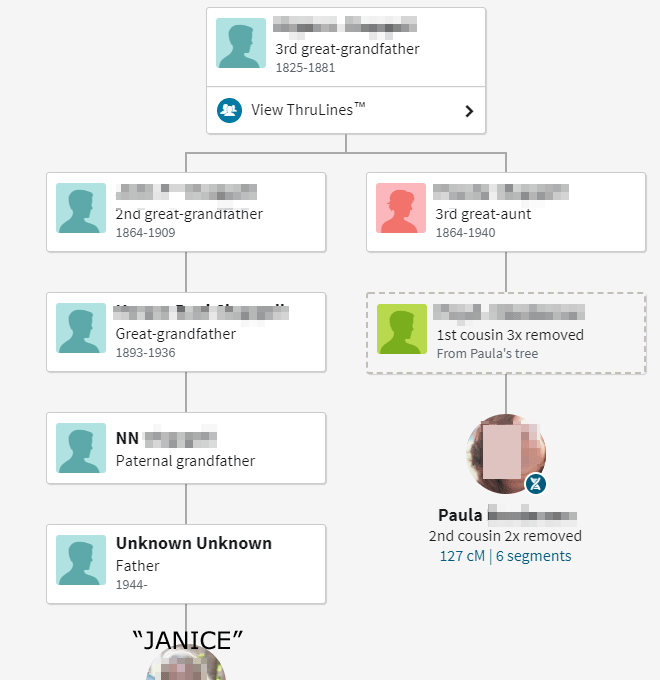 By the next day, the ThruLines common ancestor hints on Ancestry had come in. As had Trevor's invitation to me to see his DNA results. Now I checked the numbers for Janice and Trevor on the newly found common ancestor relationships. It all fit. Plus there were good matches on Roy's mother's line and his paternal grandmother's line. This is as proven as it gets without testing one of Roy's children. [UPDATE 2020: Roy's son tested and this is now proven]
On a side note, Janice and Sally had been crossing paths all their lives as they moved to different areas of the country. They are now 10 minutes from each other. Sally shared this with me "I own a dog who snaps at or bites everyone. EVERYONE. Janice? He leaped up and hugged tightly around the waist, tail wagging, looking into her eyes the second time he met her. The first time? I looked down to see Janice was petting him and he was loving it! THAT never happened before and he is 10. … Perfectly comfortable with her. Old friends."
UPDATE June-2019: Janice's father has been found using old fashioned detective work. There is a P.I., John Apel, with the birth index for Kansas City, MO and much expertise. He narrowed it down to 2 people and one of them is the guy. Sally is now in touch with her half brother! And he is getting used to having a daughter he did not know of.