A new approach to problem solving is to appeal to social media. So here is my request to "crowd" collect statistics about X chromosome matches. If you have multiple close family members DNA tested then please help me by filling out this form for each relationship at http://goo.gl/forms/4294xjjhqq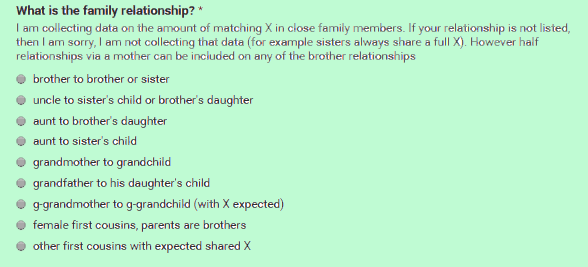 I have already put this request on DNA_NEWBIES and facebook so the form is now, hopefully, well tested and I will list some of my preliminary results at the end of this post. I have to give credit to Blaine Bettinger for this data collection idea; he is collecting autosomal statistics this way, see my post about that and the results so far.
Now why did I decide to collect these statistics aside from my own curiosity? To help an adoptee of course.
Recently I got an interesting question on one of my X chromosome posts. I was asked if the matching X could determine whether the uncle or the aunt of a female first cousin was the parent of an adoptee. The autosomal match with yet another first cousin identifies the shared grandparents and the female cousin is descended from them via her father. Neither potential parent, the aunt or uncle, has any known progeny nor are they available to be tested. Well?
My initial reaction was no way, X is too weird and undependable; but then I thought about it some more.
Since men only get one X chromosome, they pass the one they got from their mother intact to their daughters. Thus this female cousin has an unrecombined X from her Dad, half of her grandmother's X. Therefore if this X chromosome match looks look like two brothers or a brother and a sister, it would be the uncle who is the father of our adoptee.
But how much X DNA do siblings, where at least one is a male, share? Is this predictable? Is it the same roughly 50% as they share in their autosomes?
In my experience, male or male/female siblings usually share about half to two thirds of the X so 90-120cM out of the total of 196cM (at Gedmatch and Family Tree DNA) or 182cM (at 23andme) with either one or two recombination points
Here is the match:

| | | | | |
| --- | --- | --- | --- | --- |
| Chr | Start Location | End Location | Centimorgans (cM) | SNPs |
| X | 122,276 | 13,436,582 | 29.6 | 1,717 |
| X | 22,673,384 | 46,997,457 | 41.2 | 3,032 |
The total shared cMs are about 70. This would suggest the aunt is the mother since that is not as much shared X DNA as would be expected if the uncle is the father. The expected amount of shared X between these first cousins, where one is getting her related X from her father and the other from her mother, is about 25% or about 65 cM as I show in my inheritance picture.
However I was not sure that the small sample of data that I have worked with was adequate for this conclusion. Also I wondered whether my observation that shared X usually exceeds the expected mathematical percentages was valid, so I decided to collect some more statistics via crowd sourcing.
Here are a few preliminary statistics from about 50 and 100 data points. As you can see the expected amount for an uncle to his sister's child fits our case.
The collected numbers for a brother and his sibling show that they usually share about half of the X which is statistically the expected result. And would also be the expected result if our adoptee's father was the brother of this cousin's father.
But these are just likely amounts and there are plenty of outliers. So I suggested that our adoptee test another sibling of the cousin to get us more input. Plus I am hoping for more data from my crowd sourcing effort.
The form is at at http://goo.gl/forms/4294xjjhqq – thank you for helping out.