Matching DNA has put me in touch with an extremely large number of Norwegian cousins who share my fifth grandparents from Fatland farm on Halsnøy Island in Hordaland, Norway. What's more, perhaps due to the large number of them, I am seeing some triangulation of segments among their results.
This started me thinking about the effect of many generations of big family sizes on the number of sixth cousins I might have from a specific set of 5th grandparents. It would seem to me that the larger the number of cousins, the more likely it is that there are some who share good sized segments with me and Dad.
So I did a little simulation in a spreadsheet. It's very simple, it assumes that the number of children reproducing in every generation is the same so that you can see the differences for different family sizes. I also did a line or two with the real/estimated numbers from the Fatland couple.
If your family consistently had two children who had two children reproducing for six generations you would only have 64 fifth cousins, but if everyone in your family had six children who had six children then you have almost 50,000 fifth cousins. Quite a difference!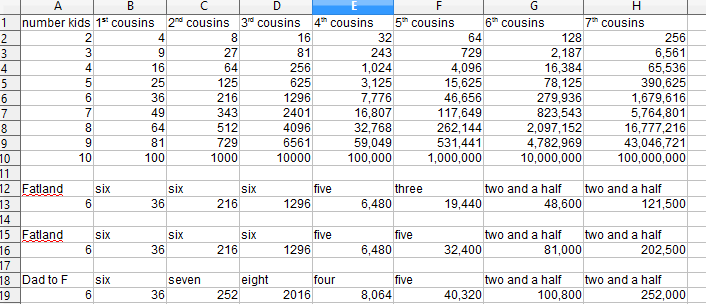 My spreadsheet is available in my downloads area for those who wish to play with it. Download
This article in the ISOGG wiki discusses the number of expected cousins and the probability of matching DNA with them: http://www.isogg.org/wiki/Cousin_statistics
In fact it was the disconnect between those predictions and my observations of my Norwegian matches that inspired this article.
Obviously there are likely a different number of reproducing children in each generation. Back in the 1700s people had lots more children but some of them died before having children of their own. In the 1800s they still had lots of children, but far fewer died. So in the mid 1900s, many of us see our ancestors having less children to start with. My great-grandparents on this Fatland line had seven children, three of whom died in childhood in the early 1900s but in the following generations almost no children died.
So how many fifth cousins do I have from the couple whose descendants seem to be triangulating? Ole Hansen Fatland (Augnaland) 1696-1772 and Brita Monsdatter Fatland (Aksdal) 1701-1783 had seven children of whom six reproduced. Using the data on their descendants from GENI.com they had 34 grandchildren and 73 great grandchildren.
However it is unlikely that all their descendants are listed there so I did a simulation in my spreadsheet based on the six having an average of six who had an average of six based on the real world numbers I saw (some had 10, some had 5, most had 6-8).
I also tried it in the other direction, going back from my Dad to Fatland. He was the youngest of five, his mother was one of four, her father was one of eight, his mother was one of eight, her father was one of ten (but only seven are on record with children), and his mother from Fatland was one of seven with children (and yes I have X from her). By presuming the same family sizes in each older generation but 2.5 children in modern generations, I get about 100K cousins in my generation and 250K in the next generation where many of my matches are. If I match a mere 1% of them, that is still close to 3500 people who share DNA with me. Not surprising then if a few triangulate!