Many months ago we were promised that the transition would come in August. Last week on July 15, several of my accounts got an email that it was coming in a few days. Today, twelve days later, two of the ten or so accounts I manage at 23andme got emails that they have actually transitioned to the new experience, mine and my dad's.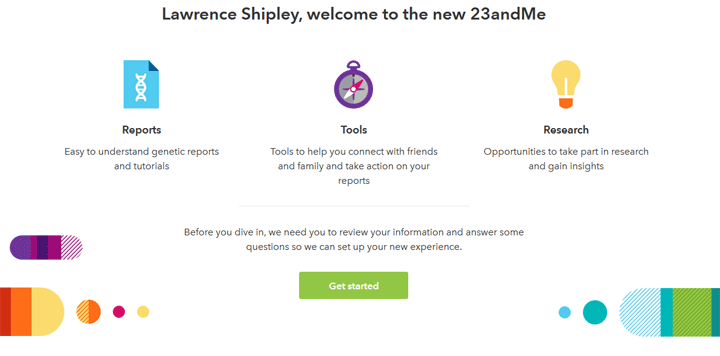 This is particularly exciting for me as I can now try out the new automated triangulation tool (click for previous blog post on that) with Dad and my Norwegian 3rd cousin. You need to participate in open sharing to have access to this tool.
When I visited Norway last summer, kits in hand, my third cousin gave me his DNA, so of course he got the new 23andme. I did a blog post on the new experience with his kit and went into the details of how to do the things I was used to doing on the old site on the new site – comparing people, asking for shares, checking new relatives, and so on. In this post, I will try not to repeat myself but rather to report on how the transition worked for me.
If your kit has transitioned, when you log in you see a big green button that says Get started that you have to click, as in the image above.. Continue reading →