It is time to cancel and re-invite all your closest anonymous matches at 23andme, letting them know that this is their last chance. After November 11 they will disappear from your relative lists as will all your pending introductions. Anonymous users will no longer be allowed to participate in DNA relatives. They can change their status in settings. Warning, if you are using a nickname rather than a real sounding name or initials, your profile will automatically be changed to anonymous (this does not include the nickname you had to specify for posting to forums). This proviso is still a little unclear to me, presumably when you are switched to the new 23andme, you can make changes to your profile then.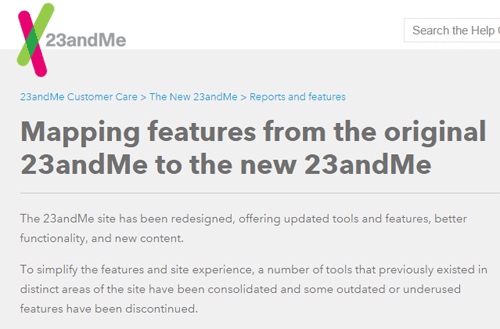 Another big change is that Countries of Ancestry is going away ,so download that spreadsheet now.
The good news is that the cap of 1000 matches is being raised to 2000. Also another good thing is that you can set yourself to "Open Sharing" which lets other open sharers compare matching DNA segments to you without the cumbersome introduction system
23andme has provided a page that maps old features to new (click here or on the image above):
A number of bloggers have written detailed posts on the changes coming to 23andme. Here are several good ones. You can also click here for the thread in the community section at 23andme.
Blogger Reports:
Shannon Christmas: http://throughthetreesblog.tumblr.com/post/131724191762/the-23andme-metamorphosis
Judy Russell: http://www.legalgenealogist.com/blog/2015/10/25/the-changes-at-23andme/
Roberta Estes: http://dna-explained.com/2015/10/21/23andme-to-get-a-makeover-after-agreement-with-fda/
Now to get back to cancelling and sending my new last chance messages!