Since I do not have an iPad, iPhone or any other Apple device, I could not evaluate this product. It sounds like a real game changer for adoptee searches! Like the DNAgedcom.com client, it finds common ancestors and can make cluster charts. However it goes a step further and shows you the common ancestors for each cluster and can build those ancestor's trees for you! Here is a guest post from a beta tester. – Kitty
DNA2Tree: New Adoptee Search Software by Jason Schneir
There are approximately 120,000 adoptions each year. When these adoptees become adults a substantial percentage want to find out more about their biological parents. Unfortunately, state privacy laws often stand in the way of identifying and learning about their biological relatives.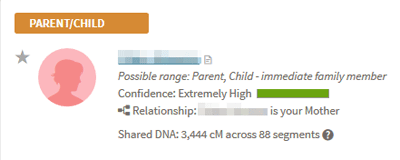 DNA testing has proved a boon to adoptees wishing to find their biological family. In the best case an adoptee is tested and the adoptee's biological family is also tested. For those lucky individuals, finding their biological relative is just a matter of looking at their match list and seeing a close match. No skill is needed.
For the majority of adoptees, close biological family is not DNA tested. Fortunately, there are DNA search techniques that can find biological parents from other tested relatives. Unfortunately, this methodology takes considerable skill and practice. For that reason, many adoptees find a geeky friend, search angel, or paid genetic genealogist to help them.
In December 2018, my wife Beth and I joined SearchAngels.org and watched every video we could find on using DNA search techniques to find an adoptee's parents. We were excited to have the opportunity to help adoptees, but were very nervous about whether we could be successful. To our great joy, we solved over ten adoptee search angel cases in our first four months. Beth worked with me on most of my cases – especially the successful ones! A key element contributing to our success was a new IOS app, DNA2Tree, which runs on an Apple iPhone.
We chose our first case carefully in the hope it would be easy. There was a first cousin match and the mother was already found – we just needed to find the father. Almost immediately our simple case fell apart and the complexities began to mount.
The first step in a DNA search is to find a Most Recent Common Ancestor/Ancestral couple (MRCA) which is shared by a number of the adoptee's matches. When there is a shared ancestor or ancestral couple a few generations back, then one of the adoptee's parents (father or mother) is descended from them. Sometimes you can just eyeball the trees of some good matches (e.g. first cousin) and find the MRCA. This time I couldn't and, on our very first case, we were stuck!
The SearchAngels.org organization made available to us a video showing how to exhaustively search for the MRCA using spreadsheets and excel functions. After five hours of concentrated effort Beth and I finally found an MRCA. By the end we were praying for one!
Unfortunately, the MRCA did not incorporate the first cousin match that had motivated us to choose this case in the first place. We put out a request for help from a more experienced search angel. In about thirty minutes this angel had noticed that the first cousin tree had the wrong father in it. Once we fixed this, we saw that the MRCA we had labored so hard on now incorporated the first cousin match and we were on our way to solving our first case!
This first experience made us realize that sometimes finding the MRCA can take multiple hours of exhausting unpleasant work with spreadsheets and excel. Thus when I got an email about being a Beta tester for DNA2Tree, Beth and I jumped at the opportunity.
DNA2Tree runs as an app on any recent model iPhone or iPad (iOS 11.4 or greater). At the push of a button DNA2Tree logs into your Ancestry account and downloads ten or more pages of matches. Then you push another button and you now have 5, 10, or even 20 MRCAs. Suddenly finding the MRCA was a complete non-issue and we could concentrate on finding the adoptee's parents and not the boring, exhausting, and time-consuming process of finding MRCAs.
One of the nice things about being a member of Search Angels is learning from more experienced Angels. One important lesson we learned was to use graphics in our trees to indicate what was going on. A special graphic for the MRCA, for the direct path (lineage) to the DNA, for individuals that have been tested (DNA matches), for people with no children, and so on, are a great aid in looking at a tree. This is particularly important after several months have passed to show you what you did. The graphics are also helpful to explain to the adoptee what was done to find their parent.
With DNA2Tree you just choose an MRCA from a list, press a button, and a tree complete with beautiful graphics suddenly appears in your Ancestry account.
Usually, we meet with the adoptee on the phone before beginning the project. It is not unusual for the adoptee to already have made herculean efforts to find their parents using instructions on the Internet but finally, in frustration, contact SearchAngels.org. Often the adoptees tell me that the brick wall for them was the MRCA – they couldn't find one.
After we get off the phone with the adoptee I pull out my iPhone and in fifteen minutes I have multiple MRCAs and three to five trees that I can use to find the adoptee's parents. It's like magic. Finding that many MRCAs and creating the associated trees would take ten hours or more to do by hand.
We try to choose MRCAs with certain characteristics. Trees with a common ancestor in the mid-1800s go back far enough so you can build up a sufficient number of generations to reach the father's or mother's age but not so far back that you have a lot more generations of offspring than is necessary. Also, with a common ancestor in the mid-1800s you can make use of the last released census – 1940. The bottom line is that with DNA2Tree you not only get an MRCA easily, but you have the luxury of choosing from among multiple MRCAs the one that will be easiest to solve.
In theory I should only need two trees – one for the adoptees father and one for the adoptees mother. However, I find that some trees either don't work or are very hard to solve. Sometimes we can figure out why a particular MRCA tree is hard to solve and sometimes we can't. The causes include errors in the family trees provided by cousins and lack of available information about offspring. In any case, we usually try three to five trees at the same time and give up on any that run into problems.
So with the advent of DNA2Tree are the 100 volunteer search angels, who solved over 250 cases last year, sitting in the sun drinking Pina Coladas while DNA2Tree does all the work? No.
Most of our time solving a case is now spent finding descendants, especially living descendants. Finding descendants encompasses finding obituaries and news articles, searching ancestry, interviewing cousins, studying adoption documents, finding living descendant's phone numbers and addresses.
The difficulty of finding descendants can vary from time consuming to impossible. It's tough. We don't even have a blender or Pina Colada mix. Nevertheless, if you have basic genealogy skills, are a logical thinker, like solving puzzles, and enjoy helping people you too could be a Search Angel. In the last four months Beth and I have solved ten cases and the gratitude and happiness expressed by some of our adoptees has moved us literally to tears … well Beth cried, being a man I of course did not, but it was really moving.
Click here for the link to install it on an Apple device. Plus here is a how to video from the creator of DNA2tree:
Editor's note, I may have to rush out and buy a used Ipad so I can use this tool! Thank you Jason for this post.
UPDATE 9 May 2019: For support and questions about this product go to the website DNAdreamers.com