So here I am in Salt Lake City visiting friends and family and I notice on facebook that Judy Russell, the Legal Genealogist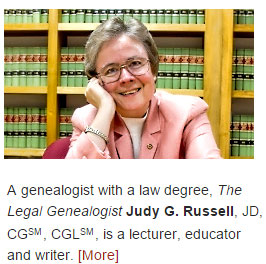 , and one of my favorite speakers has arrived in town. Why? Well she is giving a talk today, Friday, at 11:30 in the auditorium at the newly reopened LDS Church History Museum, right next door to the family history library.
This URL has the full schedule of the six free talks being offered by the Board for Certification of Genealogists on Friday October 9th. http://bcgcertification.org/blog/2015/09/free-bcg-lectures-at-the-family-history-library-9-october-2015/
See you there?