It is almost time for Rootstech 2016, my favorite genealogy conference! Not a surprise that this event suits me since I am a techie who loves doing family history and DNA. Perhaps I also like the fact that it takes place in Salt Lake City next door to the Family History Library, a wonderful genealogy resource. You can find me there on level B1 looking at Norwegian bygdebuks whenever I have a bit of free time.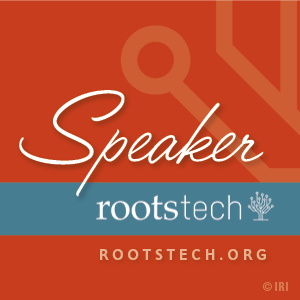 I will be giving a slightly advanced DNA talk late on Friday about how I have used triangulation to solve some of my family's genealogical questions. Don't come if you do not know what an autosomal DNA test is. But you will have plenty of chances to learn about genetics and genealogy earlier in the week from other speakers at Rootstech.
Triangulation is an incredibly important tool in the genetic genealogists arsenal. It is our own "proof standard."  I gave this class for my local DNA group and at the SCGS Jamboree DNA day last year, as I will again this year. This talk does change a little each time and I am always improving the slides. I was very pleased that so many people told me afterwards that they felt they finally understood this difficult concept. Going through a few cases step by step seems to be very helpful for most people. One of the stories I use is how we proved Kristine really is a WOLD cousin which is written up here in my triangulation post.
But there are many other interesting DNA talks by some of my favorite presenters, Bennet Greenspan (founder of Family Tree DNA), Tim Janzen, Diane Southard, and a number of the folk from the Ancestry.com DNA
 team. Did you notice that 23andme is missing?
If you get to Salt Lake City early, you may want to hear Israel Pickholtz, the author of Endogamy. He is going to give a talk about Jewish DNA on the Tuesday night before the conference for the Utah Jewish Genealogy Society.
This year there are a number of genetic genealogy classes and exhibitors at Rootstech. I did a search at the schedule page – https://rootstech2016.smarteventscloud.com/connect/search.ww – using the keyword DNA and these are the first few entries that came up: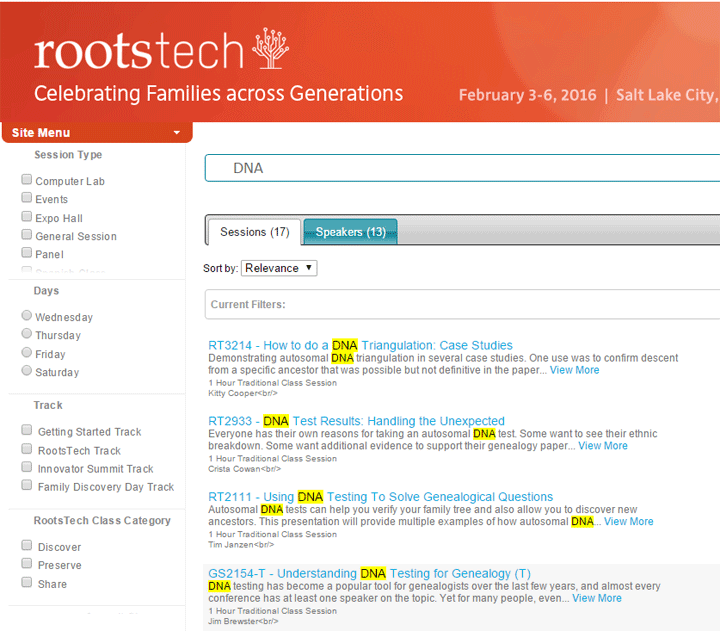 Hopefully I will do some blogging during Rootstech, but no promises, there is too much to do there! Come up and say hello if you make it to my talk, 4:30 p.m. Friday.
Disclaimer: My brother is Shipley Munson, the familysearch guy who puts Rootstech together.