"My half-sister and I have been tested to confirm half-siblings. Is there any way to know which parent we share" – this is a rephrasing of a question posed by a woman on the DNA-ADOPTION mailing list at Yahoo. A discussion of the problems of mtDNA ensued. Because the mtDNA haplogroups go back thousands of years, a match is no guarantee of a recent ancestor like a mother. So that information can only rule out the maternal side if there is a mismatch. Deeper mtDNA can get closer but still this is not certain territory yet.
However since they are both female, the X chromosome can give a definitive answer because their father(s) would pass his only X chromosome unchanged to each of them. A man has one X and one Y chromosome and a woman has two X chromosomes. Whether the father passes an X or a Y to his child determines its sex, but since neither is recombined the child gets exactly the same X or Y chromosome as the dad has.
Since a girl has two X chromosomes, one is from her dad. Two sisters with the same dad will therefore ALWAYS match on the entire X chromosome since they have one complete X in common.  If the mothers are related, then some of their X will be a full match as well. So let's look at some X chromosome comparisons at GEDmatch:

This is what the two half sisters from the question look like. The blue indicates that there is a match, the colors above it whether on one chromosome (yellow) or both (green), while red is no match. A few small errors can creep in when processing DNA so an occasional little red line can be from an error. Click the read more once you have decided if they have the same mother or the same father.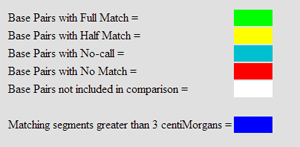 That's right, the same mother. If they had the same father you would see a solid blue line as shown below in the made-up example of two half sisters with the same father.

And here are two full sisters with the same parents, my maternal aunts:

Here is the 23andme view of my aunts using "Family Traits" from under "Family and Friends," the black is full identical and blue is half identical (so father's side only):

So can two half brothers tell which side? Yes to some extent. They would expect half matching X if they have the same mother but it can vary widely. If they have no matching X except at the very beginning of that chromosome (see below), then they probably have the same Dad, but that is much easier to tell by just looking at the Y chromosome for each of them.
Here are two full brothers, half brothers with the same mother would look very similar to this as well:

How about a half brother and a half sister? If they have no matching X then they probably have the same Dad, but unlike sisters this is by no means a sure thing. On the other hand, if they have about 30-70% matching X then they probably have the same mother or their mothers could be related. Test a few more people if you can.
Here is a full sister and a full brother, again half related maternally would look very much like this:

and another full brother and sister (me and my brother):

Notice how the beginning of the X is grayed out on the 23andme diagram above? That is actually where the X and Y do a little recombination after all, which we generally ignore for simplicity. Here is the X of my brother versus my Dad at GEDmatch to illustrate that:

Another way you can see this is to browse the raw data for a man at 23andme or in a spreadsheet and notice that there are two letters for every position at the beginning of the X chromosome until you reach "Browsing SNPs on Chromosome X: positions 2630381 through 2715425 out of 1552705" where you start to get only one.
Here is a delightful article about X inheritance or why your braininess may come from your mother: http://www.psychologytoday.com/articles/201109/the-incredible-expanding-adventures-the-x-chromosome
UPDATE 16 Apr 2017: A reader asked in the comment how a mother daughter X would look so here is an example:

UPDATE 10 Feb 2019: In the new Gedmatch all X comparisons will have a small break In the middle. Check the box at the bottom of the form that says Prevent Hard Breaks (etc) to get rid of that little black box.