No matter how expert you think you are, there is always something to be learned from others.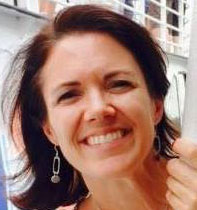 When I saw that Michelle Trostler of DNA Detectives on Facebook and Identify Family was giving a talk on getting started with AncestryDNA for my local DNA special interest group, the North San Diego County Genealogical Society, I knew I should go, and I am glad that I did.
Personally, I use the Ancestry.com DNA testing
service the least of the big three because all my ancestors are relatively recent arrivals (late 1800s and 1930s) so I do not have as many DNA matches there as elsewhere. Thus I know far less about using that site than the others.
Michelle is a knowledgeable and confident speaker. You can hear her at the upcoming i4GG seminar in San Diego as well.
Here are some of the tips from her talk that I found particularly useful.

Please note that the red arrows in all the pictures are my additions to point out the place to click.

Tip 1. Add the relationship and line to the notes for a match
When you go to the page for a match, there is an area where you can add a note that says says "Add Note." Click on that and then once you are done typing your note, click save (many of us forget this last step and lose our notes!). Once you have put some information there, you can click on the little pencil to the right of your note to add more.

Michele suggested that you put the relationship and a brief pathway to the common ancestor in the note for a DNA match. That way you can click the little note image on your match list to get it to pop up on the same page (see example below). Now you no longer have to click through to that match to see that information again.

Tip 2. Divide by 68 to get the percentage of DNA you share with someone
Take the the total centimorgans listed and divide them by 68. Click on the little i in the circle next to the confidence level to see the amount of shared DNA. So for example, as shown below, my brother shares 828 cM with our first cousin Marty. Divided by 68 I get 12.17% which is pretty close to the expected 12.5%

Tip 3. Shared matches only go as far as the 4th cousin group
Did you know that? I didn't. So you could easily share more distant matches. My brother and cousin Marty share Ashkenazi and German matches but all of these are listed as further away than 4th cousins so they do not get listed on the common matches tab.
Tip 4. Instead of clicking on New, click on Date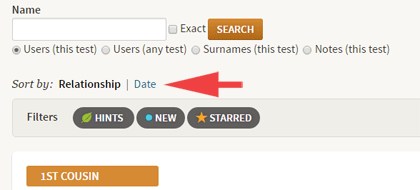 Clicking on date shows you your most recent matches listed in the order the tests became ready.
A tip from Richard Weiss of DNA adoption is to contact these newest matches right away and request them to upload to GEDmatch.com – it is much more likely that they will be receptive when they are first looking at their results.
Tip 5. Print out a screen shot of your pedigree and put stickers on the ancestors that you have confirmed with DNA matches.
If a whole branch is without stickers there may be an NPE (non paternal event) among your ancestors.
This tip is less effective if your ancestors are recent immigrants since there will be fewer matches for you at ancestry. Here is my pedigree using star stickers. My maternal grandmother's Bavarian line is starless because most Germans are not doing DNA testing and if they do test, they use one of the other two companies.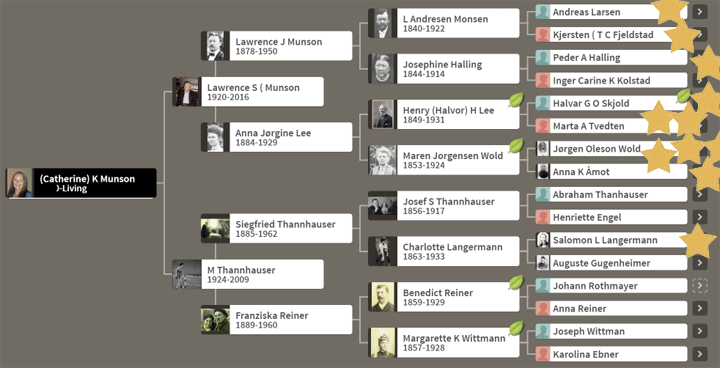 If you suspect that someone on your tree is not really your ancestor, then talk a few more cousins into testing that are expected to be descended from him and his parents to see if they match as expected. The techniques at DNAadoption.com can be useful for this type of search as well.
I am very glad I went to Michelle's talk!
Now to go update all the notes for family members at ancestry. Yes many of my cousins have shared their results and trees with me, and they have made me an editor, so I can do this.