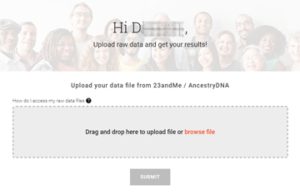 It's working again! At last …
You can upload your DNA test results from Ancestry.com
and/or 23andme to Family Tree DNA again! You get a free look and then can pay a mere $19 to get all the tools and information.
Click here for an old blog post of mine for help on getting your DNA data and transferring it. You have to be logged out of any account you have there with family finder results (mtDNA and Y are OK), before you upload. First you sign up for a new username and password (each test result has its own log in). Also be sure to use the zipped download of your data.
I recommend that you download your raw data again to do this. When I rezipped an old ancestry file and tried it, I was told that it was the wrong format but when I downloaded it again, the new version worked just fine.