A Norwegian, who turned out to be a descendant of my gg-grandparents Jørgen Wold and Anna Knutsdatter of the Drammen area, tested his DNA on 23andme and came up a close match (3rd-5th cousin) to my Dad with 35 cM over three segments of matching DNA (0.48% shared). Most matches called 3rd to 5th have been just two segments and have turned out to not be that close but rather to share two ancestors. However Henrik was on GENI.com and an exploration of his tree found that he was descended from Jørgen Wold's daughter Olava. This is the first time it has been so quick and easy to find a relationship! He is much younger than I am, so two generations further down the tree. Naturally I had to use the new DNAgedcom feature where I could compare him to all my shared profiles and see who else he matched. Here is the plot of his matches with my family and the larger shares (surnames removed for privacy except from my Dad and brother) created with my DNA segment mapper tool: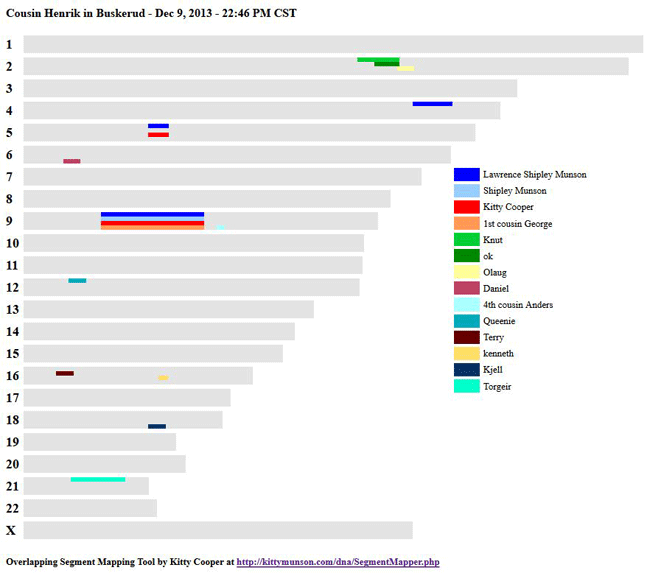 Initially we actually showed as 15th cousins once removed at GENI but I knew there had to be something closer from all that shared DNA.  I looked at his tree and saw some familiar first names so went up that line. It became clear to me from the names of the children and spouses  that his Jørgen Olesen was the same person as my Jørgen Olesen Wold. So I merged them together as well as Olava and her husband at GENI. I do love the concept of the one world family tree very much where there is only one copy of every person in the collaborative genealogical tree. However I think wikitree does a better job with controlling the inputs (and has DNA features) although Geni is prettier and has more Norwegians. But that comparison is another blog post.
I had emailed all my cousins who have helped research this line about our new cousin in Norway. Then I realized that  I wanted to do a segment map so now I will just have to email them again with the url for this post!