The changes to my messages on Ancestry are more of a problem for me than the upcoming changes to small matches. Most of the major bloggers have weighed in with their opinions about Ancestry removing matches of less than 8 cM to people not starred, grouped, or messaged. So I will list some of those articles at the end of this one. Fortunately the date for this change has been moved from early August to late August.
Personally I do not have a strong opinion about small segments. For my family, those matches are not at all useful, so I pay them no attention. About half of them rate to be false matches anyway, although Ancestry has good algorithms for phasing, making more of them real than elsewhere. However I do understand that small matches can be important to people looking into deeper ancestry. Note that I have never used those very small matches even when solving unknown parentage cases.
The other upcoming changes to segment information like showing the size of the largest segment and using decimals for the centimorgans (cM) instead of rounding to the nearest whole number are clear improvements. [UPDATE 30-Aug-2020: the longest segment is here. Click here for my blog post about it.]
However my messages, carefully filed into 50 folders, have just been converted to the new system months after everyone else's. One major annoyance is that every message thread was suddenly marked unread, all 64 of them! I had previously read almost all of them (only 4 listed unread on my icon). At least they gave me the option to download my old folders of messages.
Sadly the download did not work very well. When I tried to unzip the file it downloaded for me using the windows extract I saw this: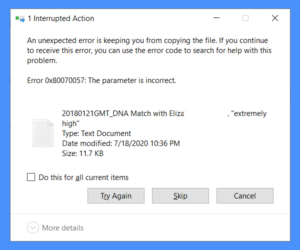 Luckily when I unzipped it with the free tool 7zip it worked fine. Further investigation showed that the filename referred to in the error message now has underbars where those double quotes were around the "extremely high" in the zip file. Thus Ancestry's algorithm of naming files by the message subject has a major flaw if you ever used double quotes there. Those are illegal in Windows filenames.
Happily for me, those 50 folders are all folders in my new Ancestry_Messages folder on my PC and each message is a little text file named by the date of the contact followed by the subject line as shown in the sample below.


Clicking on one of them gets it to open in the Windows notepad app which looks like the following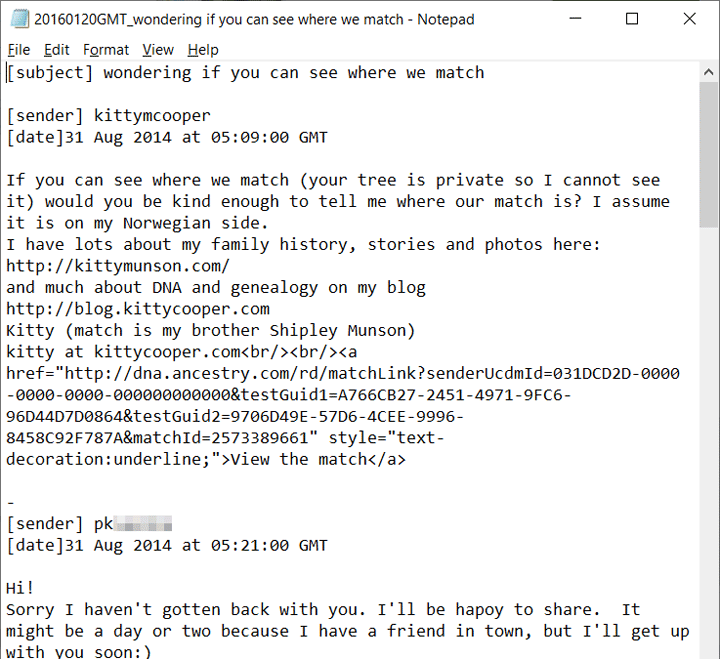 I checked that those messages were still on Ancestry, just filed by person, and they are, thank goodness, so I may not really need this little text files. We will see.
I think I can get used to having all my exchanges with any one person be in a single message thread. In fact, I like it, but I wish I could tag them with the family line or ancestor, plus a few other things like DNA relative or deceased. Currently I often have to go back to the first message to figure out why I am in touch with this person. When have been in contact with a few hundred people, you are just not going to remember them all. I do have a folder called Contacts filed in Genealogy where I have notepad files named by person so probably I will continue use those to help me remember.
UPDATE: A reader pointed out another benefit of the new messaging system, you can see if they have read your message! When it has been sent to the account it will say in small letters at the bottom "Delivered" with a time,  but once they have read it is says "Read" and also has a time stamp.
I also wish there was some way I could mark all these messages read! But it will be interesting, although time consuming, to review them.
Here is that promised list of clickable posts from other bloggers about small segments (alphabetical by blogger's surname)