Recently I gave a presentation on many of the great new DNA tools that have come out this year. The talk focused on how both Ancestry and MyHeritage figure out the likely ways in which you are related to a DNA match from the other trees on their sites (click here for my slides). This left very little time to go into the details of my favorite third party tools that can do similar magic, so I promised the attendees a blog post…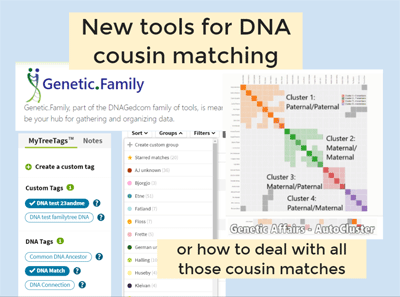 The three tools I use the most for finding common ancestors are:
They all have their strengths but none are free. Think of the endless hours professional programmers have spent making these tools and be grateful.
Mainly I use them for unknown parentage cases where the tree is not yet known. However they are also useful for your genealogy. For example, Genetic Affairs will look at the trees on Family Tree DNA and show you any common ancestors it finds with the path to your matches:
There are many other tools I could not do without, like the online relationship calculator at DNApainter (click here) but this article is about automation to find common ancestors. Read on for my summary of the strengths and weaknesses of each of the tools that do that.
The GWorks suite of tools from DNAgedcom compares all the trees of your DNA matches at Ancestry and then makes a database of the common ancestors it finds in your matches trees. One feature it has, that none of the others do, is the ability to add additional trees to the comparison via GEDcom uploads. I have many posts on how to use GWorks (click here) as well as a step by step in a recent presentation (click here). This set of tools is neither quick nor easy nor intuitive, but the resulting database is a very powerful thing to have at your disposal. Additionally it can cluster your matches (click here for that post).
Genetic Affairs is the easiest to use for most people. You make yourself an id on their site and then either subscribe or pay as you go. To start with you get 200 free credits (credits are a penny a piece). You then set up the websites and profiles you want to cluster and perhaps monitor. A nice feature is that it can send you emails when you have new close matches.
Previously I showed how their clustering tool works (click here). Since then, they have added the ability to use just your starred matches or one of your colored dot groups (or everything but a group) or matches in common or not in common with another shared profile. Dana Leeds has many blog posts on how to use this tool, click here for her post on How to Use AutoCluster with Ancestry's Custom Groups.
Genetic Affairs recently added a terrific tree building feature which makes a nice compact visualization of the common ancestors on the left and the lines to their descendants, and your matches, going to the right. You can request the trees when you ask for an auto cluster. [UPDATE: it even looks at the unlinked trees!] Here is an example of the tree for the first Ancestry cluster in "Jack's" case from that previous clustering post. Now that his tree is known, he is shown as the green box to the right with his ancestors to his left in this chart.
At the top of this article I used an example from my father's matches at Family Tree DNA. This is an ancestral couple in Norway from whom I have a few triangulating segments with a number of DNA relatives at many sites. It will be nice to show my cousins Frode and Berit this compact chart.
DNA2tree is the only tool which will actually build trees from the common ancestors on Ancestry! It is both quick and relatively intuitive (click here for that post). However it requires an iPad or an iPhone and a subscription. Plus it only works with Ancestry and it only builds the lines down to your matches; you have to add the other children and their descendants yourself. It uses nice looking icons for the profile images of the people ancestral to your matches and includes the match size in the name of the matches.
I went through the step by step on how to use it starting with slide 25 (click here) in a recent presentation.
I did not cover the clustering it will do from your matches in that talk. On the initial screen the clusters  appear small but you can click on any one of them to see the details. Each person is listed again at the bottom of the page for that cluster with a tree icon, when there is a tree, that shows how many people are in their tree. Clicking that name or icon gets you a page with all their ancestors listed with ahnentafel numbers and any common ancestors shown as well.
I actually bought myself a slightly used iPad so that I could use DNA2tree. As an android and a PC person, a few things tripped me up at first. When I tried to use the export button on the lists of common ancestors nothing happened and I had to contact support. It turned out that I just had to set up the native email program (yes I could make it use my gmail account); because that is what export uses.
The other thing my fumbling fingers had to master was taking screen shots on my iPad for my blogs and presentations. Thank you google for explaining how.
Finally with so many DNA profiles shared with me, it took me a few minutes to figure out to click the login button at the top of the first screen to get to another profile. After logging in again as myself I saw a pulldown of all the available profiles and could pick another one to work on.
More tools and tool sites are on the way. I am particularly looking forward to evaluating Genetic.family and BorlandGenetics.tools in the future.
[Disclosures: the DNA2tree people gave me a 3 month free trial so I could evaluate the product, DNAgedcom has given me a free search angel account, No freebies from Genetic Affairs but quick responses to my questions and promises to let me evaluate new stuff.]