Recently Ancestry came up with a tool to show your bio-ancestry by parent without even having a parent tested! Now they have taken it a step further and added a chromosome painting which shows you which segments of your chromosomes have what origins. Not everyone has this yet and for those whose parents are primarily one ethnicity, it is not very useful. However the more mixed your heritage, the more interesting it is.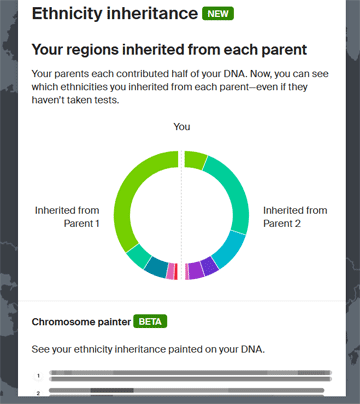 This feature is part of your DNA story so go there from your DNA menu at Ancestry. Once on that page, scroll down until you see a box on the right side titled Ethnicity Inheritance like the one in the image on the left here. Click anywhere in that box to get to the page that breaks it down by parent.
The Sideview technology, previously released and shown above, has two circles next to each other, where the left one shows the expected ancestry of each parent and the right circle shows your own.
For those of us whose parents are from different parts of the world, it is easy to tell which parent is Parent1 and which is Parent2. Plus Ancestry gives you the option to label them Maternal or Paternal. To do that, scroll down past the circles to the section titled Detailed Comparison, then click on the pencil next to the words Edit Parents as shown below (red arrow added by me). Next you get a little window which shows you half your inheritance and lets you designate which parent it is from. As my Dad is 100% Norwegian-American and my mother a Bavarian and Jewish mix, this was easy for me to do.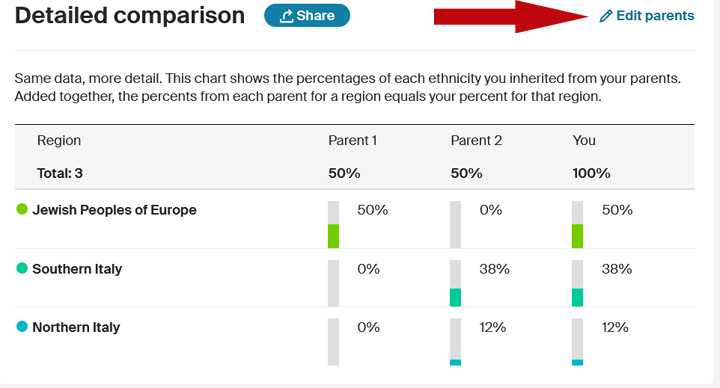 Since my father is tested at 23andme, I decided to compare that result to the prediction from Ancestry. Both Ancestry and 23andme predict a little bit of Finnish in addition to the 98% Norwegian. Only Ancestry finds a bit of Irish which is likely backwards; those Irish matches more likely have some Norwegian. No sliver of Irish is found in my brothers' results. Remember, as improved as these results are at Ancestry, unlike close relationship predictions, they are still not accurate science.
If you have elected to Beta test new features (under Extras > Ancestry Lab), then you will also have the chromosome browser painting of the ethnicity. Although this feature looks to be slowly rolled out to everyone.

There is a tab at the top of the Ethnicities Inheritance page that lets you click over to the Chromosome Painter or you can click on those words from the initial box on the DNA story page.
Continue reading →