Many families have grandparents or great grandparents who are first or second cousins. Within family marriages did not used to be as unusual as they are today. However for those of us who work with DNA, the extra relatedness adds confusion to interpreting the comparisons of their descendants. Plus there are people whose parents are related. It would be nice to have some charts showing the expected DNA amounts in these more unusual relationships.
Some of you are familiar with the statistics Blaine Bettinger has collected for more ordinary relationships. (Click here to contribute your numbers there) The calculator at DNApainter, which we all use to check the possibilites for an unknown DNA relationship, is based on his research and the statistical work of Andrew Millard and Leah Larkin.
Now Blaine is collecting the data for these more unusual relationships. So any of you who have DNA results from known double cousins or other family members whose descriptions fit, please click that image below to go to the form where you can add your numbers to his new project.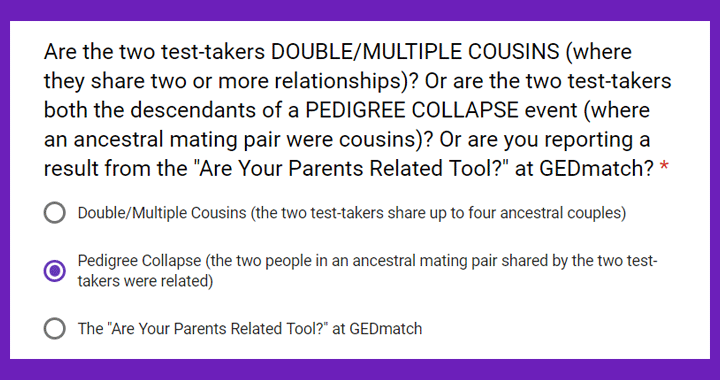 There are more places to contribute your numbers
Continue reading →