The recent good sales prices got to me, so I broke down and tested my brother with the Ancestry.com DNA test
. I had held off testing there, not because of the low opinion of their DNA tools held by serious genetic genealogists, but because my ancestors emigrated to the USA so recently that I doubted whether I would have many useful matches in a database that is 99% American.
So why do the serious genetic genealogists complain? My DNA cousin and blogger Kelly Wheaton  on the DNA-NEWBIE yahoo list described ancestry's offering as "a dumbed down product on steroids;" which really says it well.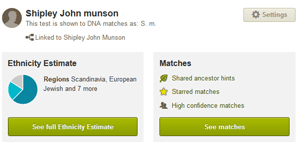 She went on to say, "What Ancestry.com DNA testing
does better than anywhere else for people with a decent sized tree (1,000 people or more), and who are American or Canadian, is make matches for you. If you have a DNA match and a tree match it does the work for you. Although these suggested matches may not be accurate in terms of who the ancestors in common are for two people who have multiple relationships, for most they do a fine job." I completely agree with her.
By the way, the serious genetic genealogists do not like it because you cannot see where the DNA segment match is and thus triangulate with another cousin to prove that this is the right common ancestor. You have to load the raw data from ancestry to GEDmatch in order to look at the segment overlaps and not all your matches at ancestry will do this. But you have to give Ancestry.com
credit for good marketing and for making it easy for folk who are not interested in doing the hard work to prove these relationships.

My thinking on testing my brother was that since he has inherited less Ashkenazi DNA than I have, perhaps his test would find some of the possible descendants of our German relatives who may have come over in the 1800s.
I had to be careful to register the bar code on his kit to my tree at ancestry, not to the new account I had to create for him in order to get that very low sales price. His results came in pretty quickly, about 3 weeks later.
When you click on the green leaf called "Shared ancestor hints" to see the matches that have tree hints with you and then on "review match" on one of them you get a most impressive display.  It will show you how the DNA in common may have been inherited (as long as their tree is public). I was totally blown away by this. Have a look at this cousin match display we got: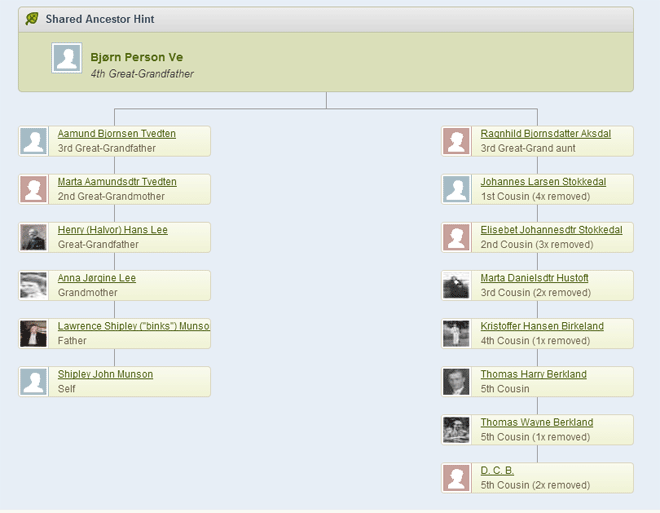 I had already been in touch with this Norwegian-descended 5th cousin twice removed; she matched my dad at family tree DNA. It had taken me some part of two days going through her tree to find that our common ancestor was Bjorn Ve (we are descended from different wives). Ancestry found it for us immediately; what a time saver! On the other hand, by knowing the segment information, I have long since matched this segment match to another closer cousin who is descended from the same ancestor via  son Aamund like us. We call this triangulation and without it I would not be sure that this is the right ancestor for that bit of DNA.
Sadly, but not surprisingly, my brother has only six DNA matches where ancestry found a match on the family trees (the shaky green leaf). All are distant; 5th to 8th cousins and most including our known 5th cousin are low probability. Three have private trees so the relationship does not get shown until they invite me to see their tree. Although I have written to all of them using ancestry's messaging system, none but my known cousin have responded yet. Perhaps my new 7th and 8th cousins will get back to me some day.
Looking at the pages with all the matches, there are no close cousin matches; the closest ones are 4th – 6th cousins. This was expected, since we are recently European. So far, almost all the matches without matches to their tree are "European Jewish" and have small trees. So I have not written to any of them yet. I did write to two of our scandinavian matches but again no response. Nor have I looked through all 351 pages of 50 matches a page. This large number of matches seems to have hung the Jeff Snavely chrome add-on for ancestry which has been running for 2 days now. Even with just one Ashkenazi grandparent there are way too many matches!
So although I am impressed with this "dumbed down DNA test on steroids;" so far it is not much use for my research. No Germans found and no response from the possibly new scandinavian cousins.
Using automation to search trees does seem to be the future though. I have used and blogged about the GEDcom comparison utility from DNAadoption.com but obviously it is even better when the DNA testing companies include this in their repertoire.