Today I sent the following email to a newly found DNA cousin match at ancestry whose great-grandmother lived right next door to my family in Kristiansand, Norway in the late 1800s. She moved to the U.S.A just a year after they did (1884 and 1885) and lived a block away from where my grandad eventually lived on Ovington Ave in Brooklyn, N.Y.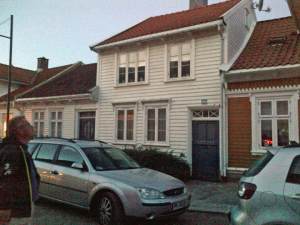 Dear cousin,
OK now I REALLY want to see where our DNA matches, because I have a large database (spreadsheets) of where my Dad, my brother and I match various known Norwegian relatives so it is likely that I can figure out from the matching DNA segment(s) where we are related and if it is really the 7th cousin match shown at Ancestry.com
 on the Eigeland line.
Pretty please either upload to GEDmatch or Family Tree DNA or both.
First you will need to get the raw data from Ancestry.com
– here is how:
UPDATE 15-Aug-2018: Roberta Estes has published a step by step on how to do this: https://dna-explained.com/2018/08/15/ancestry-step-by-step-guide-how-to-upload-download-dna-files/
To download your raw ancestry.com dna data:
a web page step by step:
https://stonefamilytree.wordpress.com/2014/08/03/how-to-download-your-ancestry-dna-test-results/
or a youtube video:
https://www.youtube.com/watch?v=0JhT75JjomM
This raw data consists of thousands of lines of information and it is best to use special tools to look at it. You can of course look at it in a spreadsheet where you would see over 70,000 lines that look like the image on the left. The columns are the rsid number (a reference SNP cluster id), the chromosome, the location on that chromosome, and what the two base pairs there are. Note that when it says T it is actually a paired AT and when it says C it actually a CG pair. Since these are always paired the listing only shows one of them.
To upload that data to GEDmatch
(the same youtube video listed above shows how to do this)
or try this web page step by step:
https://stonefamilytree.wordpress.com/2014/08/03/how-to-upload-your-ancestry-dna-test-results-to-gedmatch/
Here is some more about how to use GEDmatch for ancestry folk
http://blog.kittycooper.com/2014/09/using-gedmatch-with-an-ancestry-kit-the-gedmatch-chromosome-browser/
and the ancestry compostion tools there (called admix) are really terrific. I cover those starting with slide 5 in my GEDmatch presentation online at slides.com
and/or upload that data to Family Tree DNA:
http://blog.kittycooper.com/2014/10/free-transfer-of-dna-data-from-ancestry-to-family-tree-dna/
Kitty