Those of us who are tested at 23andme and have also done the Y STR test at family tree DNA may wonder when some family tree DNA project manager says "Test SNP so and so" whether that SNP is already tested by 23andme. This post explains how to figure that out. If I have already lost you, then this post may just be too technical or else not your cup of tea. To better understand Y testing read this Y lesson by Kelly Wheaton.
For a good explanation of what a STR versus a SNP is, read Roberta Estes' post – http://dna-explained.com/2014/02/10/strs-vs-snps-multiple-dna-personalities
So to figure out which SNPs my Dad has already tested, I first created the L11 subset image below of the R1b Y haplogroup SNPs from the beautiful diagram created for R1b by Mike Walsh because I need visuals: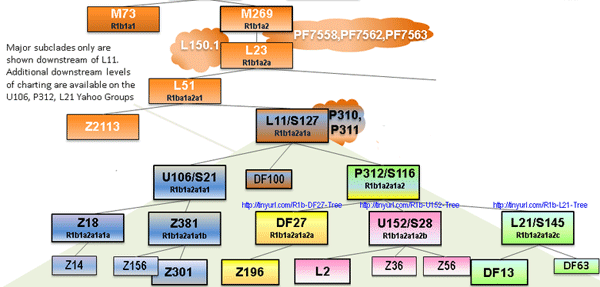 Back to the original question. My Dad is an R1b etc and 23andme uses a four year old haplogroup designator rather than the current ISOGG R haplogroup listing. A visitor to this blog suggested that we test DF100 because that is an interesting subclade we may belong to since we have these SNPs according to 23andme: L11/PF6539/S127, L52/PF6541, P310/PF6546/S129, P311/PF6545/S128.
The diagram shows that the possible downstream SNPs for Dad are U106, DF100, and P312. So how to find out if they are tested at 23andme? Since the haplogroup at 23andme shows L52 as the last SNP can I assume the others are tested?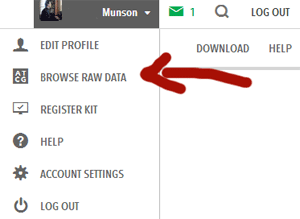 No of course one cannot make such an assumption. New SNPs are found every day and put on the chart.
There is a way to find the value of specific SNPs at 23andme by looking at the actual DNA data. On the very top left of the screen where your name and picture are shown, you can get a special menu as shown to the left here, by clicking on your name, picture or the down arrow. Click on BROWSE RAW DATA in that drop down menu.
The next problem will be turning a SNP name like U106 into a position on the Y or an "rs" number. To do that, search this ISOGG page of SNPs – http://www.isogg.org/tree/ISOGG_YDNA_SNP_Index.html for the name. For our example, U106, we see this line which tells us that C is the ancestral value and T is the new mutated value and that the "rs" number is rs16981293.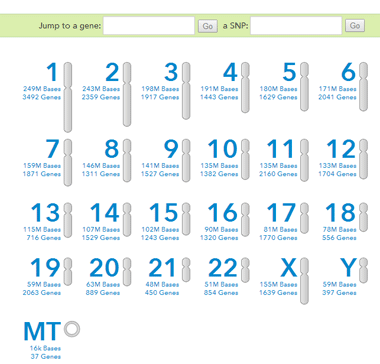 Now we can use that "rs" number on the raw data page. Put rs16981293 into the second box where it asks for "a SNP:" and click go
Some SNPs may not have an "rs" designator. In that case you can use this url and replace the 8796078 for U106 with the one for the location of the SNP you want: https://www.23andme.com/you/explorer/chr/?chr=Y&pos_start=8796078
Let's say you use the "rs" number, then you will an output page that shows whether you have an A,T,C, G, no call or deletion there.
So as you can see U106 has a C and the ISOGG chart with all the SNPs indicates that this is the ancestral value. So not that branch. DF100 is not tested by 23andme nor is P312. For P312 we need to look at the three downstream SNPs: DF27, U152 and L21. U152/S28 is rs1236440; that SNP is a C which is ancestral, not that branch then. L21/S145 is  rs11799226; that SNP is a C which is ancestral, so not that branch then either. DF27 does not have an rs number and using our handy URL for its location https://www.23andme.com/you/explorer/chr/?chr=Y&pos_start=21380200 we find nothing there. So downstream we go again.
Please note that our test results are for the V3 chip, not the newer V4 chip. We have concluded that U106 is tested but not P312 or DF100 at 23andme. However those P312s that are either L21 or U152 do have those downstream SNPs tested. So only the DF27 subset of P312 needs further examining in our case.

Here is the Mike Walsh chart for DF27 :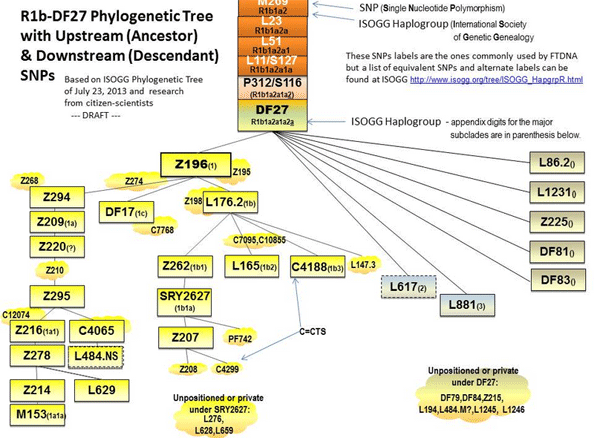 The major downstream SNP is Z196 and we see no "rs" number but locations which 23andme did not test
Z294 is not mentioned on the ISSOGG chart. Z274 is not tested at 23andme. L86.2 –  rs9785801 – is not tested.  L1231 – 4873643 – not tested.
I will continue working through our results, but I am posting this incomplete since others just want to know how to do this …
not tested: Z198, DF17, Z225, Df81, Df83, L617, L881,
[Ed note: Sometime after this was written, I found an automated tool to do this analysis for me, see that newer post on Y tools ]