UPDATE 14-AUG-2018: This tool has been superceeded by a far better one which will save the profile as well over at DNApainter.com
This tool is for the advanced user who has assigned DNA segments to specific ancestors. To compare segment data for multiple (possible) relatives use one of my other tools.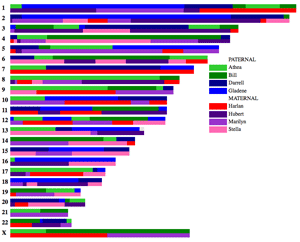 This program will make a pretty chromosome map from a CSV file which lists ancestral DNA segments from your known paternal and maternal ancestors, up to 20 ancestors on each side (you can have more if you specify your own colors).
The secure URL of the tool is broken so use: http://kittymunson.com/dna/ChromosomeMapper.php
More about it with pictures in my August 3, 2013 blog post and more pictures, including the one to the left, in this September 2014 post.
Use my other tool, the segment mapper, to make a chart of overlapping segments from relatives or other DNA matches for up to 40 possible relatives (or more if you specify the colors). And use my one chromosome mapper for a detailed look at overlaps on a single chromosome.
The Chromosome Mapper requires the column headings and contents as listed below, case sensitive, in any order, in your CSV spreadsheet. It is intended as a tool for picturing your ancestral DNA as determined from known relatives as opposed to showing your DNA overlaps from unknown relatives.
Common Problems
The most common problems are not having the correct column headings (see below) . That includes using different capitalization from the listed names. For example, someone recently used Side instead of side and the program did not understand that (yes I will add this soon).
The next most common problem is not having a correctly formatted CSV file. Try using this online tool to fix your CSV – http://csvlint.io/ – or use google docs.
Another problem for those who have created their own CSV files manually is that when a segment begins at the exact same location as the previous one ended, so the numbers are the same, the second segment will not be shown. Add 1 (or .1 if in millions)  to the second number. Yes I think this is a bug that I should fix!
Mac users creating CSV files from Numbers or other programs have line endings that my program does not see correctly. To avoid that please read the article on creating a CSV for some work arounds.
Making an Ancestor Spreadsheet

To better understand the chromosome mapping concept, read the ISOGG wiki article on mapping. Also I have an article on making a spreadsheet of your chromosome matches on this blog.
Once you have a spreadsheet that you want to make a picture from, that sheet has to be saved as a CSV (comma separated values) text file in order for this tool to make a chromosome map from it.
Rebekah Canada did a really nice step by step tutorial of how to use this tool with screen shots on her blog, no longer available so click here for the archived version:
Current List of Required Columns in your CSV file for this Tool
| Column name | Alternate Name | Must Contain this Data |
| --- | --- | --- |
| side | | This column is optional, select which side (warm or cool colors) the segment appears on. To use it put the letter M or P or any words starting with those letters to indicate maternal or paternal side of your tree, this must be added by you to any CSV downloaded from 23andme or Family Tree DNA or DNAgedcom |
| MRCA | Comparison or any column name you specify | Most Recent Common Ancestor(s) – this is the name to use in the chromosome map picture, you can tell the program to use a different column name for this. |
| chr | Chromosome | Chromosome number 1-22 or X |
| Start | Start point | The starting number for the segment location used by 23andme and Family Tree DNA, in the 23andme ancestry these numbers are divided by 100,000 so check the box for decimal if you are using that style of number. |
| End | End point | The ending number for the segment (see above comment). |
| cMs | centiMorgans (cMs) | The number of centimorgans in the segment, used for display purposes only. Since this is for display only you can put anything in this column for example I put the relative then a dash and the cMs |
| Color | color colors | This column is optional, you can let the tool pick the colors; but if you want different colors then put any color name from this list: http://www.html-color-names.com/color-chart.php in the color column the first time an ancestor appears in your CSV. The color name must be exact and case matters. Optionally, you can use a hex color like on the first page of this tool with a # in front of the hex digits. Warning, if you use one of the colors shown, it will also be used in order for another person, fix this by looking at the result and then specifying a different color for that person as well. |
Sample spreadsheet for this tool: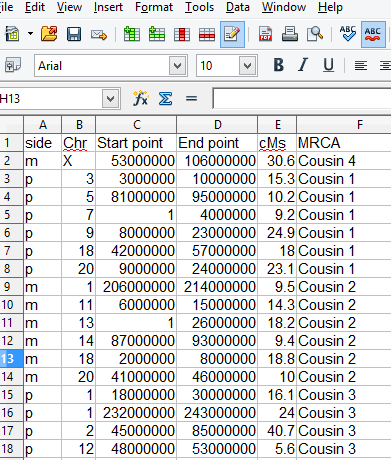 Programming is how I make my living so a small donation of $5 or $10 would be most appreciated, if you find this tool useful.
My paypal page is here: http://openskywebdesign.com/PaymentPage.html
73 Comments