Spring flowers abound around my home but more than ever I am delighting in the succulents I planted and propagated last fall. I had one large aeonium in the back that was overgrown with crab grass. So I took it completely out and planted about 30 of its florets as a border around my front circle wildflower garden. They were not this big last fall!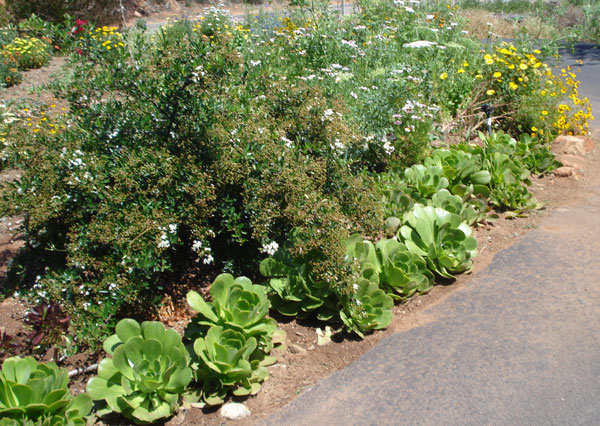 There is something about those giant green florets that I adore. So I decided to learn more about succulents and treated myself to two of our local legend Debra Lee Baldwin's books, the kindle versions, for my birthday. First her original book, Designing with Succulents
and then her latest book, Succulents Simplified: Growing, Designing, and Crafting with 100 Easy-Care Varieties
. I am delighted with how readable they are in my Ipad kindle app. I can expand the great color photos to look at details and then click on the done button when finished. The pictures are really lovely and the garden designs are amazingly colorful.
Here is what the original aeonium plant looked like, it is behind my little table. It appears to be a bunching variety. Looking through the aeoniums at the David's garden web site, I think perhaps it is aeonium canariense. It was in a full sun, no extra water, location. The new location gets a brief automated weekly watering and as a result it is much greener and larger.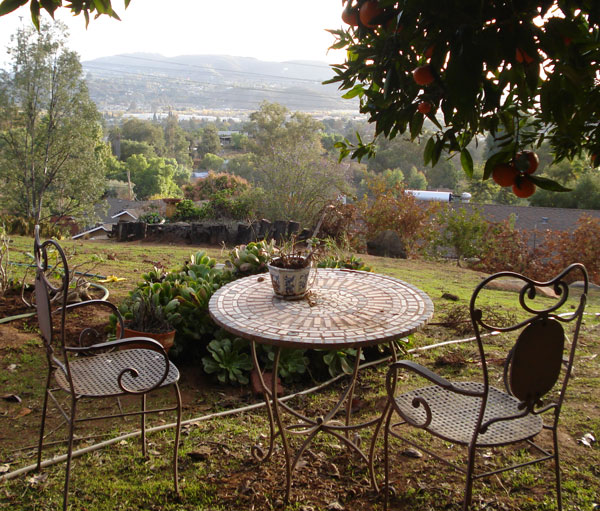 When I first moved to the San Diego area I had left behind a large lovely jade plant that was just too big to fit with everything else we were taking in the motorhome. So I gave it to my neighbor who had cared for it in our absence. I had nurtured for about 15 years and was very sad to part with it. Imagine my surprise when the house we decided to buy came with many enrmous jade bushes all over the property! And they bloom with little white flowers in the late winter.
My first outing with the Lakeside Garden Club was to a Solano Beach succulent grower. Knowing nothing, I picked a few to try out. Then my garden club friend Margaret gave me a few cuttings. So I put together a small succulent garden as an experiment. Now it is lush and full and I moved a few agave pups to the back … now where to put more succulents? Everywhere!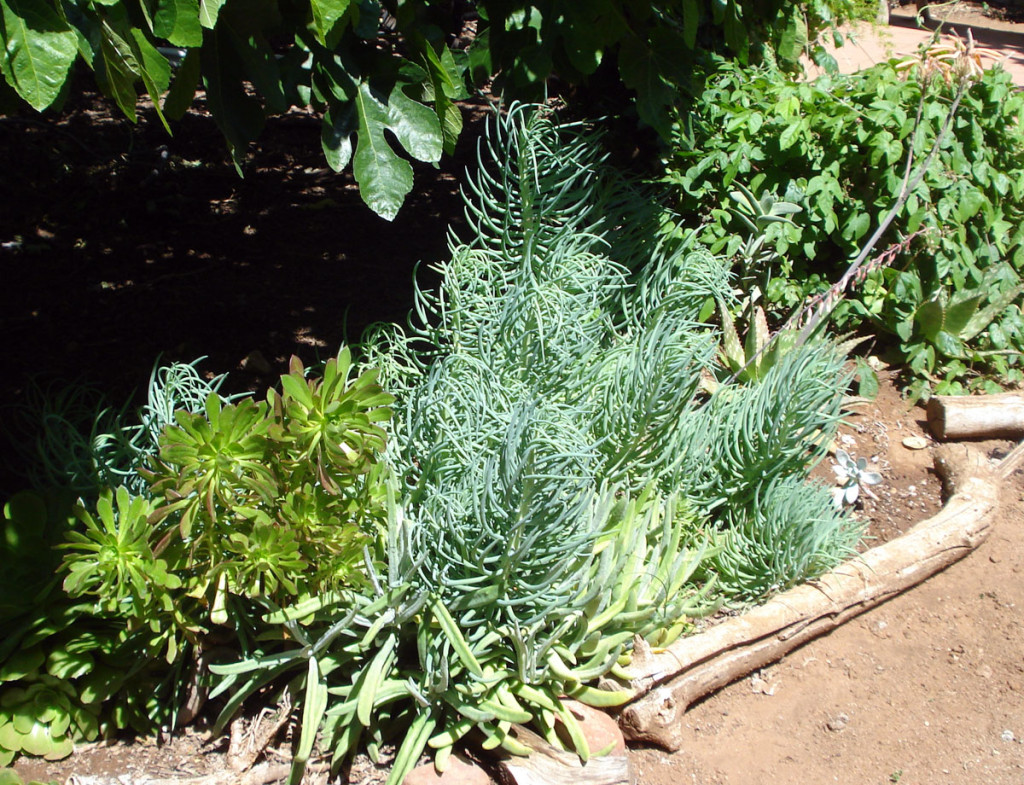 Recently while visiting friends in Tucson, we went to the Tohono Chul gardens for brunch and the garden shop there had all kinds of lovely succulents. So I became an enabler and encouraged Adrienne to buy enough succulents for 3 pots and helped her plant them. But that will be another blog post … for myself, I fell in love with this Aloe 'Sunset" and bought it. I still have not decided where to put it however, so it is on a post outside my office sliding doors for now.