UPDATE 10 Mar 2020: This Beta feature has been removed. Complain to 23andme if you miss it.
You can connect your family tree at FamilySearch to your 23andme profile as part of a Beta test of this exciting new feature. Then your DNA relatives can see the names of your grandparents (if deceased), great grandparents, and so on, via a nice compact list where every generation is clickable to see the full names, dates, and locations. Plus they can even click on a specific ancestor to go to that profile at FamilySearch! Only a preview is shown until they log in there.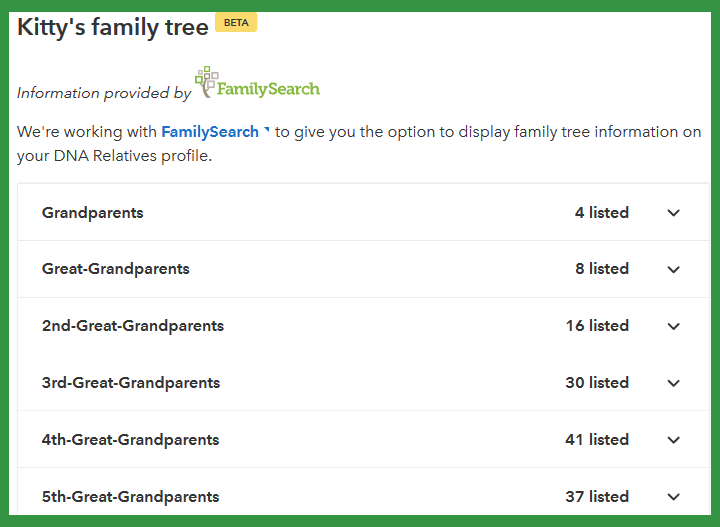 Click on any down arrow in the compact ancestor list to see the names for that generation.
Click on any person of interest from that list to go to their profile at FamilySearch. Then maybe the View My Relationship tool, at the top right of a profile, will find the relationship. This is somewhat limited at the moment. Although it shows the pathway, it does not name the relationship.
This can make it easy to find your common ancestor although I have to wonder why 23andme does not do that for you. It would be incredibly simple to program that, since there is only one copy of each person on the one world tree at FamilySearch. In other words, it is nowhere near as difficult to do as ThruLines from Ancestry or the Theory of Family Relativity from MyHeritage.
If you opt in to Beta testing at 23andme, your DNA relatives list will show a special little green icon of the FamilySearch logo on the far right next to anyone who has connected their tree. Clicking on that person to go the detailed match page will now include the FamilySearch tree information there as shown above.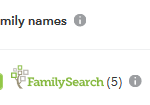 The Beta test also includes an family search label and icon at the bottom of the left column on the DNA Relatives list which indicates how many of your matches have connected to FamilySearch. Dear cousins, get to work, five is not very many yet!
So how do you make this connection?

You have to opt in to be a Beta tester at 23andme.
You need to have a login id at FamilySearch that is connected to your family in their one world tree.
You have to make the connection to FamilySearch from 23andme.
First let's opt in to Beta testing. Log into your 23andme account. Click on the down arrow next to your name on the top right. In the menu that appears, click on Settings. Now you will be on the page where you can change things in your profile. Scroll down and find "Beta Program." If you are already enrolled there will be a gray button saying Stop participating in program else you will see a big red button that says Become a tester. Click that to join. If you want to know more about the program click the blue Learn more about the program and its terms that appears on the enhanced profile after you join.
How to connect your 23andme profile to your FamilySearch tree
Use that same dropdown menu to get to the settings page again. Now look for the blue underlined words Edit Enhanced Profile, clicking there will take you to a page with five simple items. Click on the words Share a link to your online family tree and a pane will open up as shown below.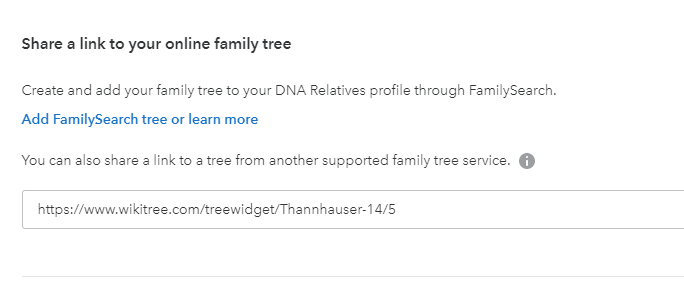 Of course you already have a link to your WIKItree or GENI tree in the slot for that since you read my previous post about linking a tree (click here for that blog post). To connect to FamilySearch just click on the  blue words Add FamilySearch tree or learn more and you will be offered the following screen: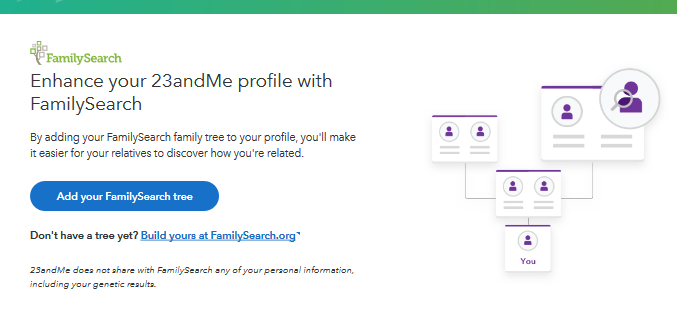 Click the big blue button to get to a log in screen at FamilySearch. Once you log in, you will have connected your tree. Now the data from the FamilySearch tree will be integrated with the rest of your 23andme profile, showing your ancestors out to your 5th grandparents, if they are listed on that world tree. (See the section further down if you do not have an id there yet.) Once you have logged in, your tree is connected and you get a nice display showing how many ancestors are listed in each generation. Notice that living ancestors will not show, so in the case below there are only 3 grandparents listed since one is living.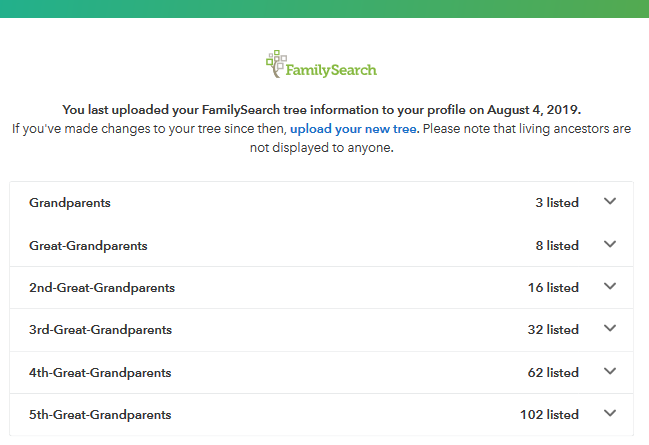 If you update your tree at FamilySearch just come back to the enhanced profile page and click on Manage your FamilySearch tree to return to this display where you can ask it to upload a new copy of your tree's data.

Creating an account at FamilySearch
If you do not yet have a FamilySearch account (free by the way!), you can make one by going directly to FamilySearch.org or get there from the page above on 23andme by clicking the blue words Build yours at FamilySearch.org. This will present you with a screen at FamilySearch where you enter your name and birthdate (like all genealogy sites no one can see that date but you). Next you give your email and password and then get sent an activating email.
Once you activate the id and finally log in to FamilySearch you get presented with a screen like this: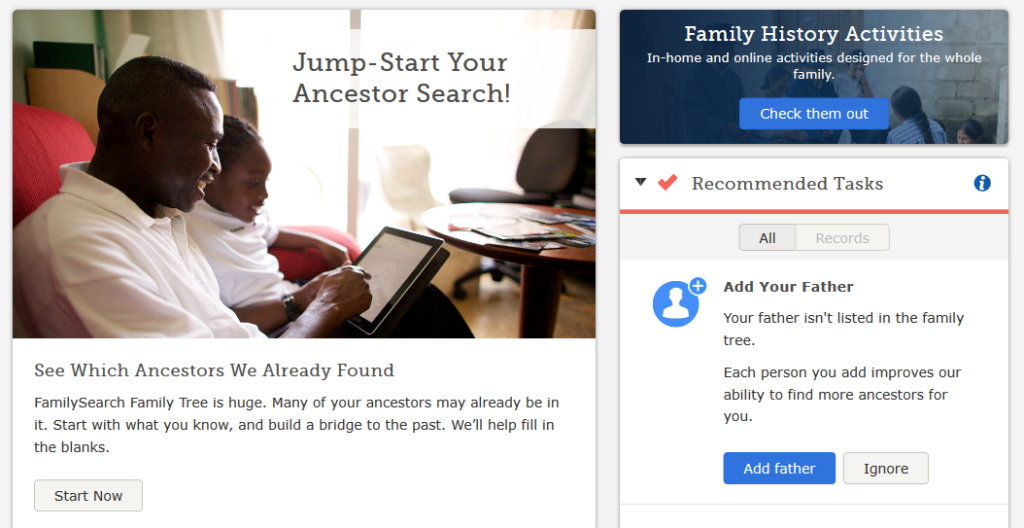 If you click on the Start Now you get to the nice tree display where you can fill in your ancestors. If you are lucky, most of your family will already be there. Enter your parents and grandparents to find out, as it searches the tree for each person you enter. However if living people are already in the database it will not tell you, so you have to build back to the dead ancestors in order to start finding them in the tree. That will look like this case, where I searched for my dad for a relative: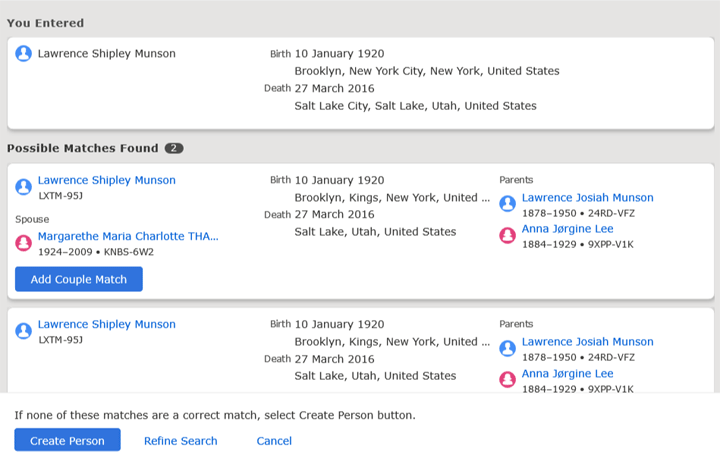 I clicked the Add Couple Match and added the whole tree of their ancestors to my relative's tree. There was no need to laboriously copy it over from somewhere else.
If you are unlucky and your grandparents or great grandparents are not already in the tree, you can add a GEDCOM. Click here for my previous blog post on how to do that. Like most one world trees you have to check each person before clicking them over into the collaborative tree but that is better than retyping or lots of cut and pastes. I recommend starting with small subsets of your tree.
Once you have a user id connected to your family in the world tree at FamilySearch, go back to 23andme to the Enhanced Profile settings and connect your tree as explained above.
The downside is every 23andme user may need a FamilySearch id
This is only a problem for those of us who manage multiple kits on 23andme.
I have my two maternal aunts in the same account at 23andme. Since they have all the same ancestors it seemed reasonable to connect each of them to the one account of the living aunt at FamilySearch. That worked just fine. For my late father I just created an id for him and attached him as a new living child to his parents.
Fixing my own tree
By the way, when I looked at my own FamilySearch ancestor list, I noticed that my brother and nephew, who work on the FamilySearch tree, only had 27 of our 3rd great grands when I knew I had found 30. So of course I had to go fix that! The compact list is a quick way to see how complete your tree is.
The tool I used to figure out the holes in my tree is a site called Puzzilla.org which connects to the FamilySearch tree. You log in with your FamilySearch id and then you can use the free chart feature to see what is missing. Click on any node to see who it represents. This is what I found there for my tree: 2nd great grandfather Christen Jonsen's ancestors were missing.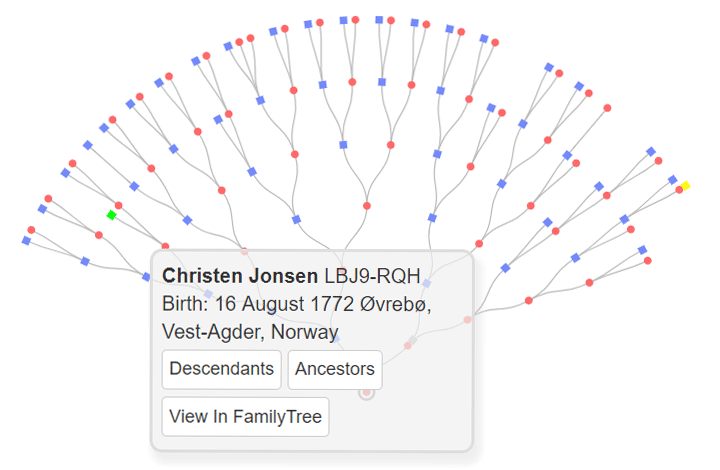 UPDATE 5-AUG-2019: I forgot to include the link to these video tutorials for those new to the FamilySearch tree:
https://fh.lib.byu.edu/classes-and-webinars/basic-tutorials/
UPDATE 5-AUG-2019: The little icon next to names in your DNA relatives list who have connected their FamilySearch trees seems to only be refreshed once a day… Yesterday I chastised my brother for not having done this because he had no icon in my list but he claimed he had… so I went to his profile and saw that he indeed was connected. Today he finally has the icon!
Disclaimer: My brother works for FamilySearch but I wrote this post independently, without any consultation with him or his colleagues although I demanded he connect his id to his 23andme account.