A new feature at 23andMe is the ability to link your DNA test profile to a tree at any one of a number of online sites. Ancestry.com,
 FamilySearch.org FindMyPast.com, GENI.com, MyHeritage.com, RootsWeb, and WikiTree.com are all supported. The problem is that most of those sites need a login so if your match is not logged in there, it does not work well.
WikiTree.com and RootsWeb are the two that do not need a user to be logged in to see the tree, so I recommend using one of those sites. Although MyHeritage.com, which many of us still have from the days when you got a free small tree there as a member of 23andMe, will show much of a tree without being logged in.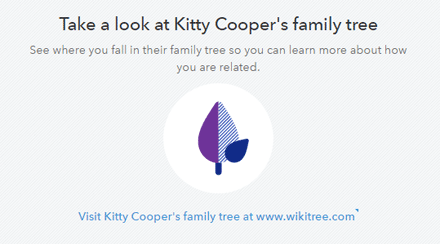 Where do you see this tree link?
Go to Tools > DNA relatives and click on a person. Scroll to the very bottom of the page and see something like this image. Click the 'Visit" link to get to the tree.
How do you link your profile to your tree?
This is the tricky part. The only place I have found where you can do this is from your DNA relatives People page.
UPDATE 2 AUG 2019: On the top right of the page under your name and image pull down the menu and click on Settings then scroll down. And find Edit enhanced profile. Click those words to get to the new page where you can add your family tree link.

On the next page, scroll to the very bottom and look for the words Family Tree URL, as in this image (with my usual added red arrow).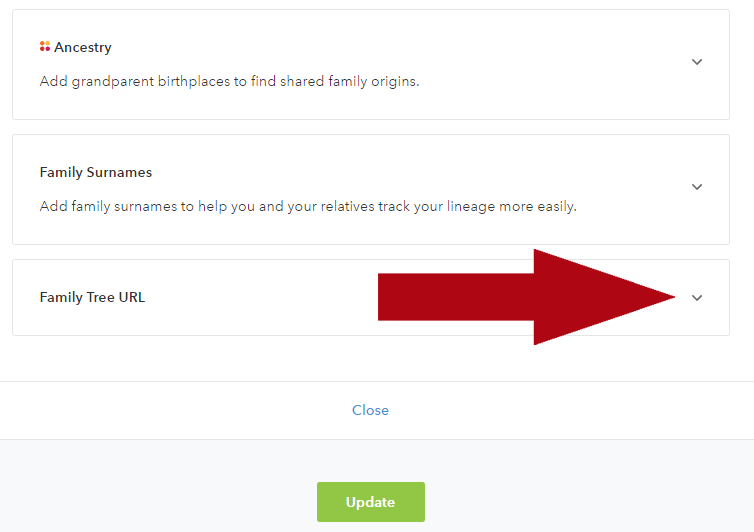 Click the tiny down arrow (indicated by my red arrow) to the right of those words to get that box to expand. Now you will see some more words like "Share your family tree with your DNA Relatives. See the list of supported family tree services." Click the little "i" if you want to see the list.
There is a box below those words which will either be empty or have a MyHeritage URL, if you originally set up a tree there. If you wish to change it, delete that URL or double click on it. Then add or paste in the new URL for your preferred online tree. Finally click the UPDATE button.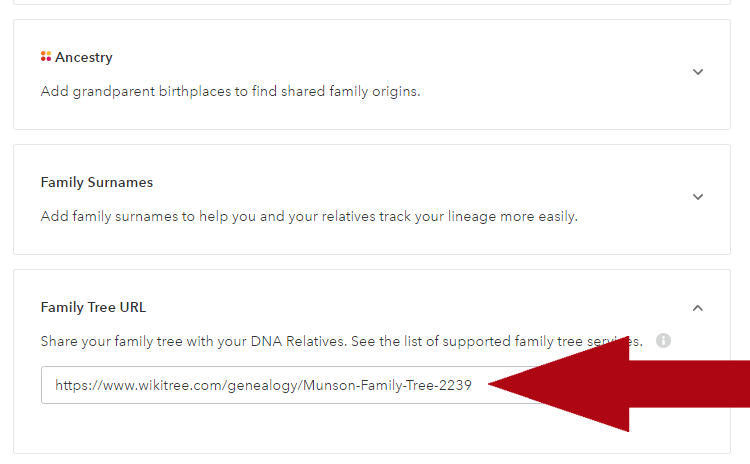 WARNING, at least in chrome, a box comes up asking if you really want to leave this page. NO you do not want to leave until the swirling "Saving Preferences" goes away!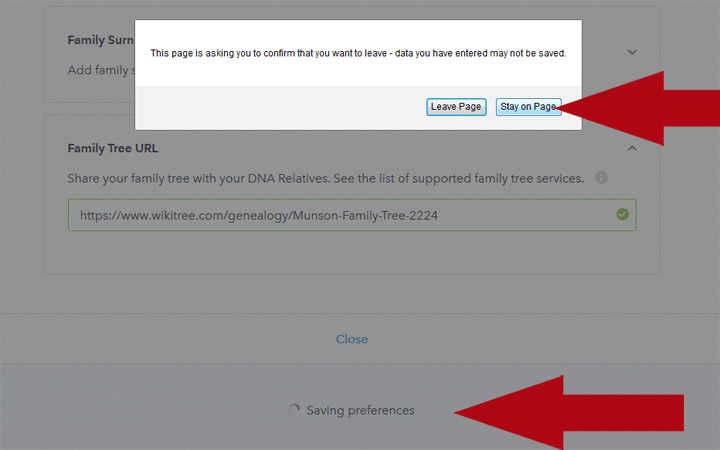 The pedigree view in your online tree is the most useful for people looking for shared great (great great) grandparents with you. I prefer to use WikiTree.com which has both a pretty pedigree view and a compact one.
Clicking through to my tree gets you to this page where you can easily see where we might match and where my 2nd grandparents are from if it is further back. And scrolling down that page there is a link to a compact tree which shows up to 254 ancestors with dates, places, and ahnentafel numbering. Click here for mine.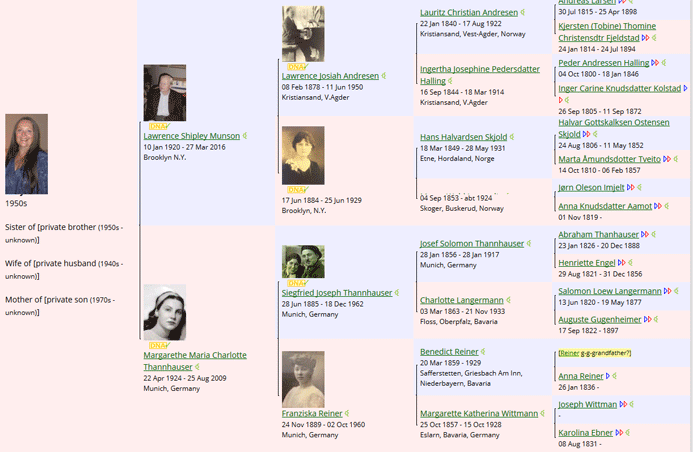 By the way, if you have not been on 23andMe for a while it will ask you questions about viewing your health reports before it lets you do anything (unless you are an ancestry only member).
I look forward to seeing more trees linked to my matches at 23andMe!
UPDATE 2 May 2017: I forgot to mention that your tree must be set to public at WIKItree for this to work. You can keep your details private while your tree is public see my recent blog post for how to do that.