The DNAgedcom site was created to provide tools for adoptees using DNA to search for biological family but it is also very useful for those of us working on our family's genealogy. Down with those brick walls!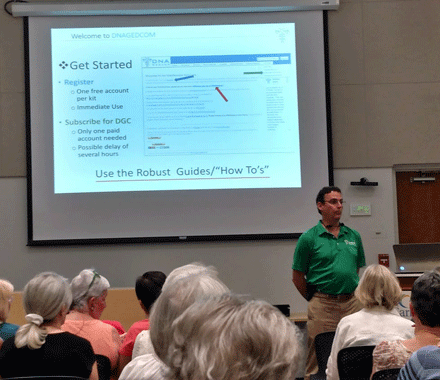 Richard Weiss of DNAadoption.com did a very informative talk for our local genealogy group recently and as always, I learned a few things. Click here for that presentation which I uploaded to slides.com for him. In the next few weeks there will be a voice over version on DNAgedcom; I will add that link at the bottom of this article when it is ready.
There are two terrific free web sites created by volunteers that have tools to use with your test results that are often confused with each other: GEDmatch and DNAgedcom:
GEDmatch is a place to upload your DNA results and GEDcoms and compare those to possible cousins and your family. Click here for my many posts on that wonderful site.
DNAgedcom; is a place to upload your match comparison results, not the DNA results, and work many tools on them. You can even upload your match results from GEDmatch!
The key to successful use of DNAgedcom is to get a paid membership for at least a month and download their client program, DNA Gedcom Client (DGC), to collect data from the sites where you tested.
The feature that I have used the most as a genealogist is the collection of all the segments that every person I share with at 23andme.com shares with each other. Of course now that there is automated triangulation at 23andme, this is less important. Click for a good article at segmentology on that 23andme feature and also click here for this article of mine about the new 23andme experience which discusses it towards the end.
There are two main types of analyses you can do at DNAgedcom:
Tree comparisons
Segment data analysis
DGC can collect the tree data from Ancestry.com
with ease. I use the fast version, 4th cousins only for most cases and then follow with Gworks for the analysis. If you are lucky, you may never need to look at segment data at all to solve your mystery.