So my trip to the land of my ancestors has ended and I am home, busy catching up on correspondence and work. It may be a few more days before I start blogging about genealogy and genetics again. The exciting news is that we got three DNA samples from 2nd, 3rd, and 5th cousins while over there. One came from knocking on the door of a farm house with cousin Corinne and saying, "Our ancestors lived here, are we related?"
The last week of my trip was spent at a Bridge Tournament above the Arctic Circle in Tromsø. I was amazed at how difficult it was to get my sleep rhythms in synch when the sun never set. I think I did not play my best. I was also surprised by how much colder it was there than down South.
Tromso was the start point for many artic explorations and had several museums with displays celebrating this plus a lovely Sami exhibit at the University Museum.
My plane home had a 5 hour stopover in Oslo so I took the train in and visited their art museum, the National Gallery and the Dance of Life exhibit.
No photos were allowed of Munch's Scream but I took many pictures of Norwegian landscapes that really appealed to me as well as some of the impressionist paintings.
Here are a few of my favorites:
I am not very good at creating selfies yet but here is my effort with a Degas
Then some lovely Scandinavians. Corinne and I visited a graveyard on a hillside when looking for Titland that was very like this one.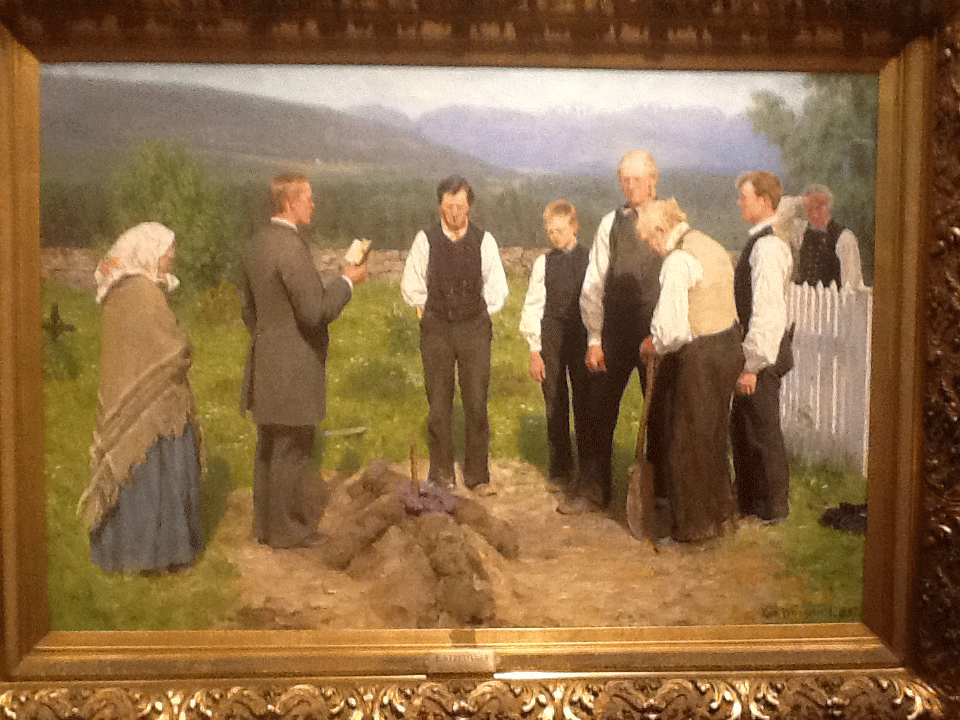 Hans Heyerdahl 1857-1913 captured the feel of Norway very well. You can read more about him at Wikipedia.
Although Gustaf Adolf Fjæstad Christensen was Swedish, I still loved the patterns he saw in this flood.