I explained step by step how to upload your GEDCOM to familysearch.org in my most recent post. Now to explain to add the people in it to their one world tree.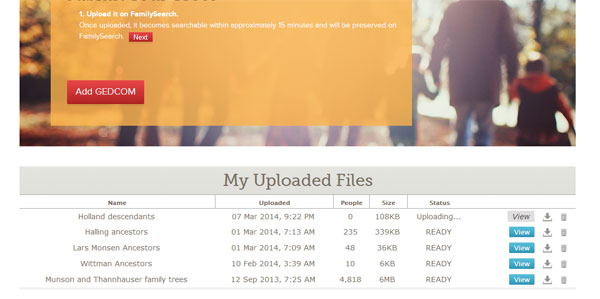 In order to add your GEDCOM to the main Family Search Family Tree (FSFT), you must go through the people one by one after it has been processed by the familysearch software. You get to the screen shown above the same way as previously explained to do an upload: Search > Genealogies (click very bottom blue button "Upload"). When your GEDCOM has been reviewed by their software it will say "READY" in the status column shown on that Upload page. Now you can click on the blue "View" button to add your family.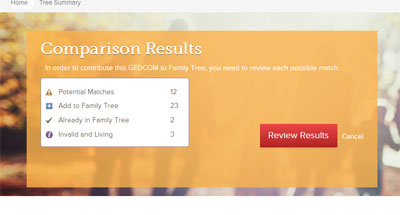 The "View" button takes you to the screen shown on the left which shows you the results of comparing your data to the FSFT.
Click on "Review Results" to get to the next screen where you will add each person one by one. At least you do not have to retype the information! Although if you add a large GEDCOM it can get pretty tedious. So I make small ones for a branch of family at a time.
In order to add people you need to click on either "Add to Family Tree" or "Potential Matches" on the top left of the next screen.  Then click on a person in the list below. Adding is fairly easy, you look at the person and click the add button as shown below. Then click the next person in the list. The bottom of the list of ten lets you go to the next page of matches.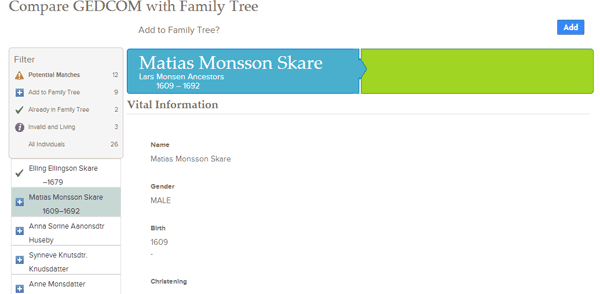 When there are no matches, you get a nice simple page like above where you can click the blue button to "Add" the person to the tree.
However "Potential matches" can be quite annoying as in the case below.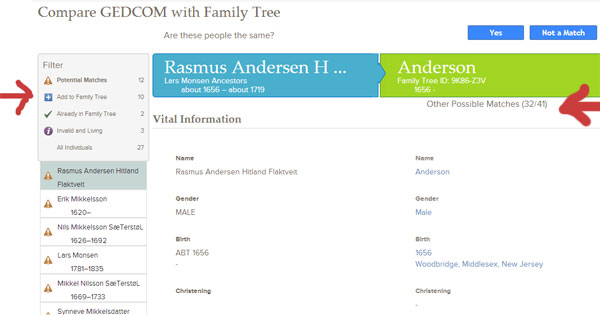 Since I had no locations for this Norwegian ancestor, he got matched to someone in NJ, also Denmark and I had 41 matches to review before I could add him.
It is very important to have a birth or death location if you do not want to have way too many possible duplicates. Also people without any dates can get marked living and not be available to add. So in the case above I had to click "Not a Match" many times before getting to where I could finally add this person. Mind you, often there is a real match so go through them carefully.