The other day I walked two different second cousins through using the new Ancestry DNA features to work with their match lists. I showed them how to figure out which line matches are related on and how to use colored dots to mark known relatives by surname group. I promised them I would write it up but promptly left on vacation. So here it is, a bit late…


On the DNA matches page, Ancestry gives you a list of people you share DNA with, ordered by the most to the least amounts and grouped by expected cousinship. These are your relatives, often previously unknown to you, but be aware that the relationships listed are just guesstimates based on the centimorgan (cM) totals. Someone listed as a second cousin may be another relationship, like first cousin once removed, that has similar amounts of shared DNA. You can click on the little "i" in the black circle after the cM and segment numbers for a list of more possible relationships as well as an indication of how probable they are. Alternately you can look up the cM total in the online calculator at https://dnapainter.com/tools/sharedcmv4 based on Blaine Bettinger's shared cM project.
Ancestry's new DNA match display is nice and compact. Look at the examples above and below. On the left is the person's picture, if provided, and their name or initials. Next is the relationship guesstimate with the actual shared cM and number of segments plus the previously mentioned little "i" in a solid black circle. The next column shows if the person has a tree; if it is green with the number of people it is linked to their DNA, else it is gray with a lock icon if it is private. The words unlinked tree appear if there is no tree linked to that person. When Ancestry finds a common ancestor that is listed under the green linked or gray private tree.

A realy nice new feature is that final column. For each match, Ancestry shows the first sentence or so that you put in the notepad for that match, plus whether it is starred (also known as a "favorite"), and best of all, one or more color coded dots if it has been assigned to any groups.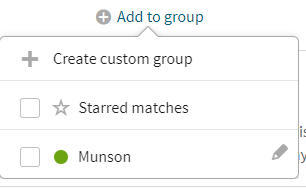 When you click on the Add/edit groups or the plus in the gray circle next to those words in the far right column you get the option to star this match or add it to an existing group or create a new "custom" group. In unknown parentage searches, when one parent is known, we star the matches that are not in common with the known side. Personally, I star matches that I want to come back to later to do more work on.
You get 24 colors to use for your custom groups. My recommendation is to use 8 of them for your different great grandparent lines (or 16 if you want to go back a generation further) and the others for ethnicities or localities on as yet unknown matches. In some cases you may have some deeper lines with many matches that you use a color for. For me that includes several 4th grandparent lines and my Fatland 5th grandparents. A few of my groups are listed on the right (not all fit on the screen!). Each match can get multiple dots so a first cousin might have four for each shared ancestor line you have assigned a color. I prefer warm colors for the maternal side and bluish colors for the paternal side.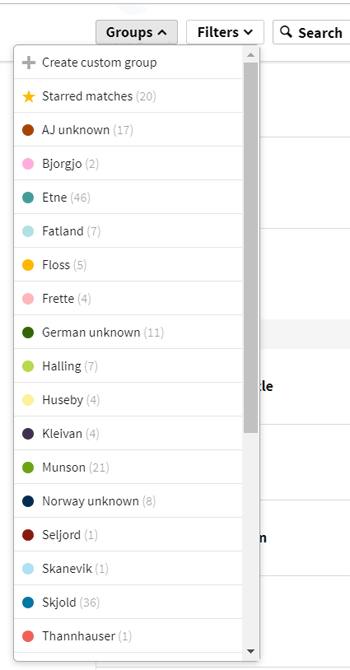 Note that the list on the right is from the drop down on the top of the match pages that you get when you click on the Groups button. You can select any group from that list to view just those matches or select your starred matches. Plus at the bottom of the list are several other options which I will discuss later.
To set up a group you click on create custom group in any of a number of places: in the drop down under groups or in the add/edit groups box. You then get a box with the 24 colors. Note that the colors you have already used have a slash through them and the current color has a check as shown in the image above. Click on any available color and name your group. If you do this on a match page or from the left column of the match list, that match is automatically added to that group. Notice there is a little pencil in the pop up box, you can click that to make changes to your group or even delete it.
To add notes to a match, you need to go to the full page provided for that match by clicking on their name or tree information. Once on the match page, click on the little blue Add note under the Add to group and a panel slides in from the right where you can make notes about this match. I like to always start with the abbreviated known relationship and then the surname line. For example, 1C1R stands for my first cousin once removed.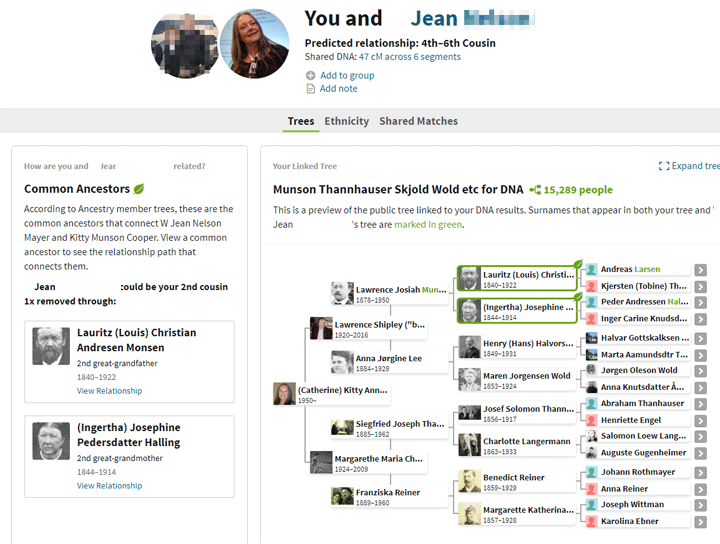 This new match page is really nice looking and easy to use once you get the hang of it. Above is my cousin Jeanie's page for her match with me. In the left column, it shows the common ancestors that were found and lists our possible relationship – second cousin once removed, which is correct. The middle pane shows a compact pedigree tree of your relative with those common ancestors outlined in green with green leaves. Plus surnames found in both of our trees are also green, which can be useful for matches where a common ancestor was not found.
UPDATE 1 AUG 2019: I forgot to mention that if you click one of those common ancestors shown on the left you get a display showing how you are related using the ThruLines method,  click here for my post about ThruLines.
Notice the little blue Expand tree on the top right of the tree pane. Click it and get up to 7 generations in a compact pedigree format in a new window superimposed on the original window. I often do that with a match that has no common ancestor to see where they might fit in.
Since I know Jeanie is on my Munson line, I can click on shared matches to change the view on this page to a list of our common matches. Then I would merrily click them all into the green Munson group, starring the ones I want to look at more later because they are new to me. Jeanie also shares my Halling great great grandparents so I could also add that group to her. Some of those starred matches may turn out to be Hallings not Munsons.
Common matches are very useful for a new unknown relative, particularly when those matches are all tagged with just one color. That tells you which line to look on for the connection.
Another useful feature when looking at a new unknown DNA relative is to click the Ethnicity button for that view. Here you and your cousin are shown side by side. Which is the ethnicity that both cousins share the most of in this image?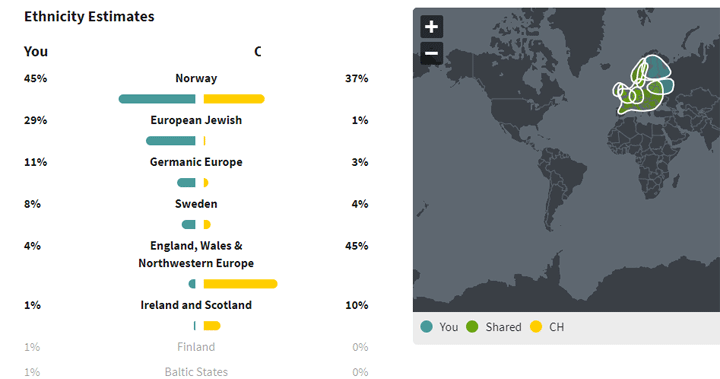 Our common ancestors were Norwegian and it is easy to see that that is quite likely from this view.
Back to the other items on the menu that drops down from the Groups button. If you have a parent tested, you will get the option to just view relatives on that side. Other useful options are new matches and just the closer matches. Note that you click the item you selected again to get rid of that view. Here is an example of the options under Groups.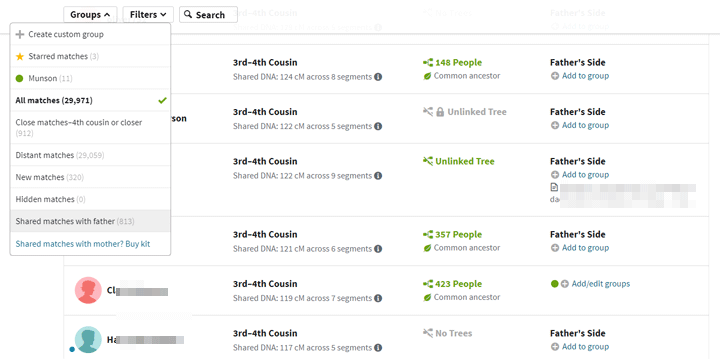 There is also another button called Filters with more ways to select a subset of your match list. It can be used in combination with Groups selections. Here it shows you that matches with a blue dot all the way to the left are the ones you have not yet looked at. I am particularly pleased by the ability to select matches I have messaged but saddened that it does not give a link to those messages. You have to go to your inbox and search for that username.

So what are the negatives? A missing feature is the ability to look at matches who share a specific ethnicity, hopefully this will be added back soon. A complaint I also hear is how long the pages take to load since there is no more use of separate pages, just more people getting added at the bottom of the page.
You can tell Ancestry what you think by clicking on the provide feedback in the little box that occasionally pops up or click here to go directly to their suggestion box.