UPDATE 10 Mar 2020: This Beta feature has been removed. Complain to 23andme if you miss it.
You can connect your family tree at FamilySearch to your 23andme profile as part of a Beta test of this exciting new feature. Then your DNA relatives can see the names of your grandparents (if deceased), great grandparents, and so on, via a nice compact list where every generation is clickable to see the full names, dates, and locations. Plus they can even click on a specific ancestor to go to that profile at FamilySearch! Only a preview is shown until they log in there.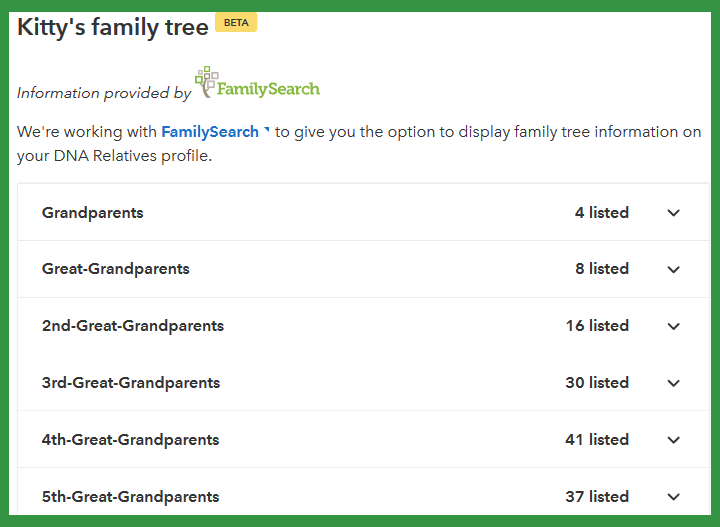 Click on any down arrow in the compact ancestor list to see the names for that generation.
Click on any person of interest from that list to go to their profile at FamilySearch. Then maybe the View My Relationship tool, at the top right of a profile, will find the relationship. This is somewhat limited at the moment. Although it shows the pathway, it does not name the relationship.
This can make it easy to find your common ancestor although I have to wonder why 23andme does not do that for you. It would be incredibly simple to program that, since there is only one copy of each person on the one world tree at FamilySearch. In other words, it is nowhere near as difficult to do as ThruLines from Ancestry or the Theory of Family Relativity from MyHeritage.
If you opt in to Beta testing at 23andme, your DNA relatives list will show a special little green icon of the FamilySearch logo on the far right next to anyone who has connected their tree. Clicking on that person to go the detailed match page will now include the FamilySearch tree information there as shown above.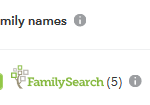 The Beta test also includes an family search label and icon at the bottom of the left column on the DNA Relatives list which indicates how many of your matches have connected to FamilySearch. Dear cousins, get to work, five is not very many yet!
So how do you make this connection?
Continue reading →