Perhaps this post needs the subtitle , "My Perfect Cousin Goes to GEDmatch."
Most of us can keep track of information in spreadsheets. So how to do that with DNA? Well, the idea is to keep a list of matching DNA segments so that a new match can be compared to your known family members. That way you may be able to see where they fit in.
If you have tested at 23andme, MyHeritage. or Family Tree DNA, you can download your list of matches with their matching DNA segments either directly from your testing company or by using the tools at DNAgedcom. However AncestryDNA
does not provide a list of matching segments.
Why would you want those? The short answer is to figure out which line a new DNA cousin belongs to. For the long answer, read on. For more posts about DNA spreadsheets click here or in the tag cloud, lower right hand column.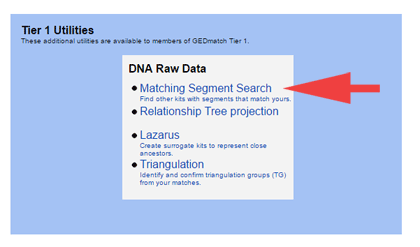 AncestryDNA
 testers can make a DNA segment spreadsheet by using any of a number of utilities at the GEDmatch web site. Start by uploading your raw DNA data (click here for that "how to" post). Your results will usually be ready for full comparisons the next day. Then buy the tier 1 utilities for at least one month ($10).
My preference for making a first spreadsheet is to use the Tier 1 GEDmatch Matching Segment Search. Then I go through the top matches from the 'One-to-many' matches report with that spreadsheet as a reference. I add notes on what I discover to my new spreadsheet.
Here is the step by step of what I did for my perfect cousin J.M. whose AncestryDNA
results I blogged about in my previous post.