Dear Adoptees,
If you have deep American roots, then it is likely that you can find your family by doing a DNA test through Ancestry.com
. There are many blog posts here that can help you plus …
Read this summary of using DNA to find biological family at ISOGG – https://isogg.org/wiki/Utilizing_DNA_testing_to_break_through_adoption_roadblocks written by the DNA adoption people.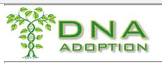 There is a wealth of material at DNAadoption.com and they also have online classes on how to use DNA in your search.  In addition, they have a google mailing list at https://groups.google.com/forum/#!forum/DNAAdoption/join (you must have a Gmail email address or at least a "Google Account"). Plus there is a group of Search Angels willing to help you out with your basic Adoption search. Find out more at http://groups.yahoo.com/neo/groups/SoaringAngels/info
Also the DNA Detectives Facebook page is a great resource for those with unknown parentage. They have over 50k members helping each other –  https://www.facebook.com/groups/DNADetectives/
This article from Leah Larkin, the DNA geek is a terrific summery of the testing process:
http://thednageek.com/getting-started-in-an-unknown-parentage-search/
There is now a book out on adoption searches: The Adoptee's Guide to DNA Testing: How to Use Genetic Genealogy to Discover Your Long-Lost Family
which is a good reference guide.
I have a number of posts here on solving unknown parentage cases. This is much easier for those with North American ancestry. Click here for my post which outlines the steps to use the DNAgedcom tools set called GWorks – http://blog.kittycooper.com/2017/09/solving-unknown-parentage-cases-with-dna/ which uses automation to compare the trees of your matches.
These days, one of the clustering tools may give you a quick way to focus in on the lines to investigate, particularly if one parent is already known. Click here for my clustering posts.
Maurice Gleeson of Ireland regularly does talks about solving adoption cases with DNA, click here for his latest adoption talk on youtube and skip the first quarter if you have already tested. Click here for an older presentation of his with more details on these searches.
Anyone with 2nd cousin matches at Ancestry.com
 can try the mirror tree technique to figure out which line they are related on – see how here http://www.borninneworleans.com/how-to/what-is-a-mirror-tree/ although this is no longer encouraged. Use GWorks to find an ancestral couple to build down from. Then build the tree back from a likely candidate and attach your DNA as his/her child.
There are a number of stories about Adoptee successes on this blog at http://blog.kittycooper.com/tag/adoption-success-stories/