Dear Adoptees,
If you have deep American roots, then it is likely that you can find your family by doing a DNA test through Ancestry.com
. There are many blog posts here that can help you plus …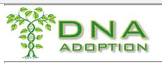 There is a wealth of material at DNAadoption.com and they also have online classes on how to use DNA in your search.  In addition, there are yahoo mailing lists just for adoptees at http://groups.yahoo.com/neo/groups/dnaadoption/info . Plus there is a group of Search Angels willing to help you out with your basic Adoption search. Find out more at http://groups.yahoo.com/neo/groups/SoaringAngels/info
Also the DNA Detectives Facebook page is a great resource for those with unknown parentage. They have over 50k members helping each other. https://www.facebook.com/groups/DNADetectives/
Finally I have a number of posts here. Click here for my post which outlines the steps to use the DNAgedcom tools set called GWorks which uses automation to compare the trees of your matches.