Reading about this holocaust survivor's discovery of missing family via DNA had me crying –
http://www.ynetnews.com/articles/0,7340,L-4589762,00.html – but it also got me thinking about how few jewish DNA success stories there are. Perhaps that is changing now that more people are testing.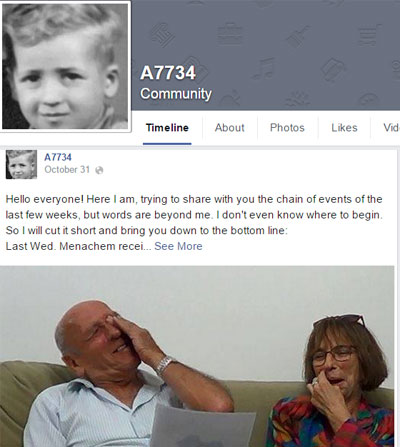 The screenshot at the left is from facebook page A7734 about Menachem's search. It shows him and the genealogist who helped him, looking at the first picture of his parents he had ever seen.
Frankly, success stories with jewish DNA are rare.  I have none to report from my family. I emailed all my Ashkenazi researching friends to see if anyone had a good success story. Not very many are out there. If you have one, please send it along.
The endogamous nature of jewish DNA is part of the problem. Everyone looks like a close relative in the DNA matching. Another part of the problem is that so few Ashkenazim know their ancestors past their great-grandparents. Too many records were destroyed in WWII, among other problems researching.
In my experience, if an Ashkenazi Jewish (AJ) DNA match is not showing as a 2nd cousin or better it is unlikely that you will find the relationship. An experienced Israeli researcher told me to ignore anyone without at least one long segment match of 23 cM.
Below are a few tips from search angel Gaye Tannenbaum who frequently works with AJ DNA.
Gaye also co-authored a paper studying the differences between jewish and non-jewish DNA with Dr. Jeffrey Mark Paull and Dr. Jeffrey Briskman, the link is here: http://www.surnamedna.com/?articles=differences-in-autosomal-dna-characteristics-between-jewish-and-non-jewish-populations
Her tips:
1. Determine if the Second Cousin matches are real second or third cousins.

2. Share match lists (or ICW lists) with your closest AJ matches.  You will need to get a list of the close matches to BOTH of you – i.e. 3rd to 5th cousins or closer for BOTH.  This will narrow down an ICW list of 1000 to about 20-40 people.  By now, you can probably just look at matches that are 2nd-4th or better for BOTH of you.

3. Get familiar with the classic rabbinical lines and German Jewish sources.  Those are the only trees that go back further than someone's great grands.

4. Get familiar with the historical maps and shtetls of Eastern Europe.  JewishGen's Town Finder is wonderful for this.  It will give you the name changes, the country changes and show the town on a map along with other towns close by.  ABSOLUTE MUST – get the locations for your immigrant ancestors.  Born in "Russia" does not count.  Get the shtetl name!  Look for naturalizations, passenger records, marriage records.  Death records are seldom useful – but you never know.

5. Get familiar with history – key expulsions, settlement laws, migration patterns, uprisings and pogroms.
The fact that my German Jewish grandfather was an only child and all but one of his uncles' lines died out may have something to do with my lack of success finding relatives on my Ashkenazi line. We have no 2nd cousins on that line and only one set of thirds. I tested both my maternal aunts and my double 3rd cousin but still no confirmed new relatives. We did find one group that come from the same little town in Bavaria so we know that they are related somewhere.