My favorite feature at GENI is the relationship calculator. Often when I find a new Norwegian cousin via DNA, I can look them up at GENI and it will tell me how we are related. Plus a fun way to fritter away a few hours is to use the calculator to find out how you are related to various famous or historical figures. Norwegian records are good and thus many of us can trace back to early Nordic aristocracy which means we are related to all kinds of interesting people.
When I go to my 19th cousin 4 times removed George Washington's profile, it shows me our relationship at the top. If I had not looked at the profile before then instead there would be a big blue button saying "How are you related" which I would have to click on to get GENI to find the relationship.
On George's profile, if I click on the green button that says "Show 41 relatives" it will show me the names of all the ancestors on the path from me to George. Plus every name can be clicked to go to that person's profile. Click the image below to see the names relating me to George over at GENI.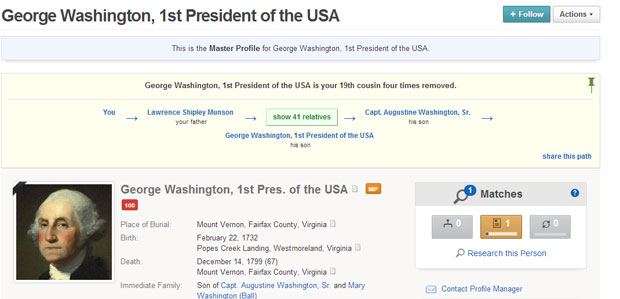 Continue reading →