Today being the last day of the year, I always sit down and give money to the charities I care about, online of course. My husband even let me give to my local PBS station since I watch their evening news most nights as well as many other programs like Downton Abbey, Keeping Up Appearances, and Nova.
This year I also gave to a fascinating DNA project; the ongoing search for Y haplogroup A00 and its branches in Cameroon. I love crowd funding; what a fun way to support those things that interest you. Click the image to join me supporting this one.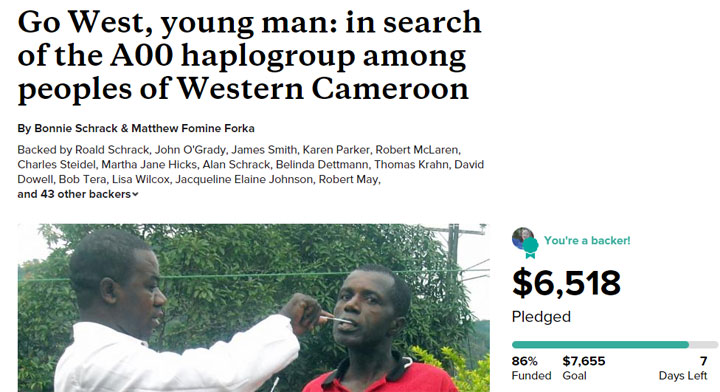 Here is an excerpt from the email my facebook friend genetic genealogist Bonnie Schrack sent out recently which caught my eye:
"On our next field trip, in January, Matthew will sample peoples to the
West, the Banyang and Ejagham.

Our exciting news is that Thomas Krahn will be traveling to Cameroon in
January, and will accompany Matthew! They'll also visit villages
previously sampled, to return results to the men already tested,
something almost never done in traditional academic studies. We, as
genetic genealogists, see them as individuals, not just sources of raw
material. They are interested in learning about their paternal lineages,
and we are trying to learn as much as possible about the A00-bearing
families and their history."
The Y haplogroup A00 was discovered by citizen scientists and that truly excites me. The history of the migrations of our ancestors is written in our DNA and I really love being part of this.