One of my cousin's kits that I manage has transitioned to the new 23andme. Here is the scoop. Most everything you do on the site seems to require that you go through a tutorial before you can participate and most everything seems to have been simplified.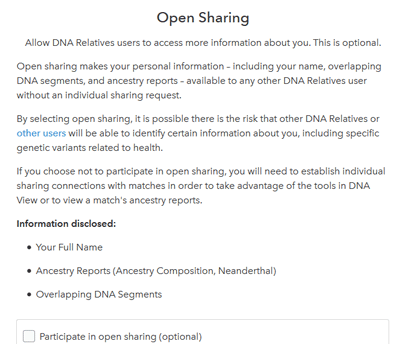 You do have to review your profile information and choose to opt into the Open Sharing the first time you log in. Open sharing lets your matches compare their DNA to yours to see if there are any matching segments without going through the introduction message process. This is recommended if you are doing 23andme for genealogy or adoption research.
The problem is that those of us who are deeply into using DNA for ancestry research will be disappointed by some of the loss of functionality on the new version of the site as well as by the fact that some functions are significantly clunkier for us.
The new main menu is greatly simplified, definitely an improvement. Instead of those fancy drop downs you have just four items; Home, Reports, Tools, and Research plus the little green icon with the number of messages you have listed. You have to click one of those to get to further menus.