UPDATE 3-SEP-2018: My apologies, my account and my cousins do NOT have the latest updates. Since they are more recent and prettier than the last time I looked, I had made that false assumption. Thanks to the members of the Ancestry DNA Matching Facebook group for showing me what the real update looks like.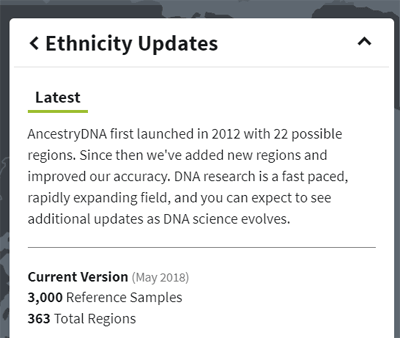 To see what your version is click on the "up to date" or the "i" in a circle on top of your ethnicity results. Then it will show you a box that tells you what version you have. If you only have 3000 reference samples, then, like me, you do not have the very latest.
I look forward to writing a new post whenever I finally get those changed reports! Meanwhile this post may still be of some interest…
Original post was:
Over the summer Ancestry DNA
has been rolling out their new ethnicity estimates and they have finally arrived in my account.
These changes have been made for two reasons. First of all, Ancestry
has lots more data; they have added 13,000 new samples to an original group of 3,000 reference populations.* Secondly they have changed their algorithm to look at runs of DNA rather than just single points (23andme uses this technique as well). You can read their full explanation here: https://www.ancestry.co.uk/cs/dna-help/ethnicity/faq
The predictions for my brother, as shown above, have not changed (click here for my previous article on his ethnicity). He is still 62% Scandinavian (our Dad is Norwegian American) and 22% Jewish (Mom's dad was German Jewish). While the Bavarian from Mom's mother is still showing as Scandinavian, Europe South (this was Italy/Greece), and West European. The English comes from Dad according to various other sites where he was tested. This is discussed in my article Norwegian or English? where I suggest that it is the English who have some Norwegian.
The new presentation is prettier and it has some very accurate subcategories. Yes all our Norwegian ancestors are from the circled areas, Western and Southern Norway.
One thing I find very enjoyable are the descriptions of the subgroups and migration groups. Also of interest is the story they tell you when you click on one of your groups and a date like 1875 as above.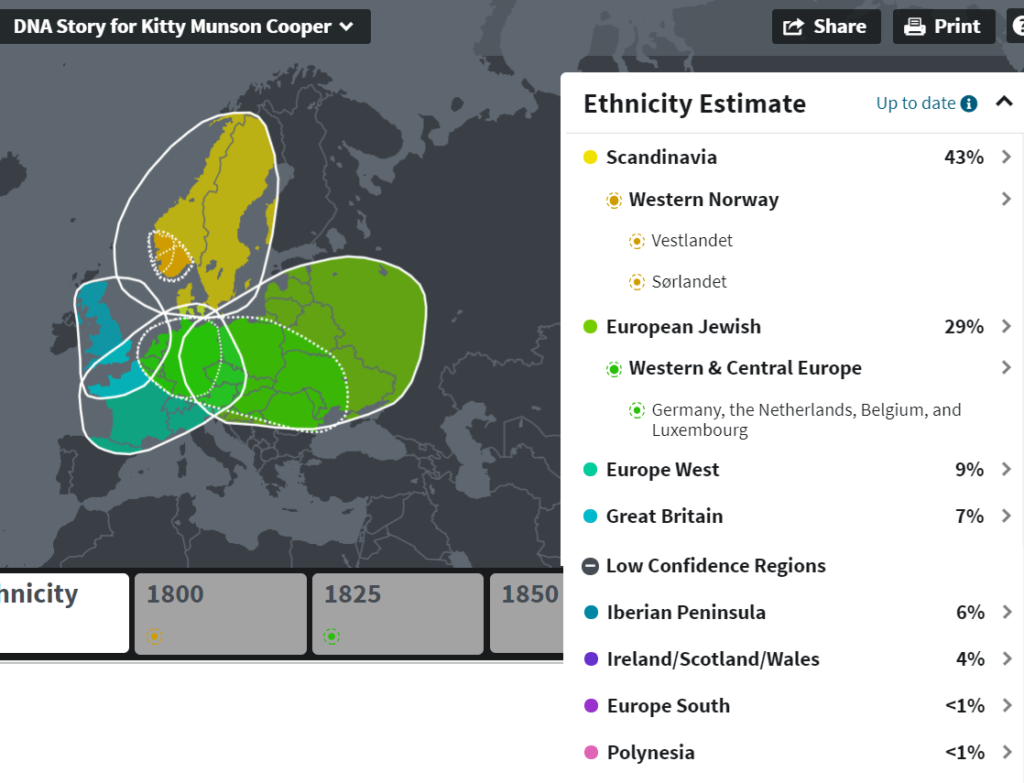 My ancestry is different from my brother's but not wildly so. I have more Jewish (German Jewish so within the predicted subgroup), less Scandinavian, and a few interesting bits of noise like Polynesian. I remember one ethnicity estimate somewhere which claimed I had 1% Amerind. I like to think there is a sprinkling of Sami that creates that blip.
I have examples from a wide variety of people thanks to the many adoptees and relatives that I have helped. By the way, my perfect cousin (who I often blog about) is still 100% Scandinavian with the expected subpopulations of South and East Norway.
Here is Tessa whose unknown Dad turned out to be New Mexican (mother known to be English/Scottish):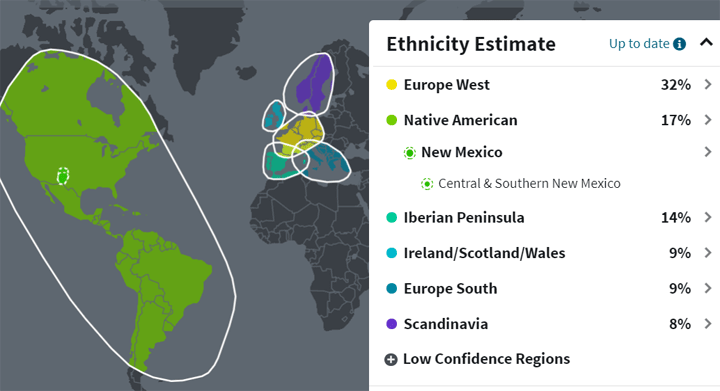 One of my cousins is half Norwegian (our shared heritage) and half Belgium. He married a Moroccan women so here is the fascinating mix shown for their son:
Compare that to his father:
Then of course there is my 100% Jewish husband whose father was born in Poland and mother's family in Galicia, now Ukraine. His subgroups are correctly predicted below. The interesting variations from Jewish are clearly due to some Sephardic roots on his father's side (that African Y haplogroup) since his maternal cousin does not have them.
And let's finish with an adoptee whose roots turned out to be deeply American with no less than 6 migration groups!
Here is what Ancestry tells him for one of those groups.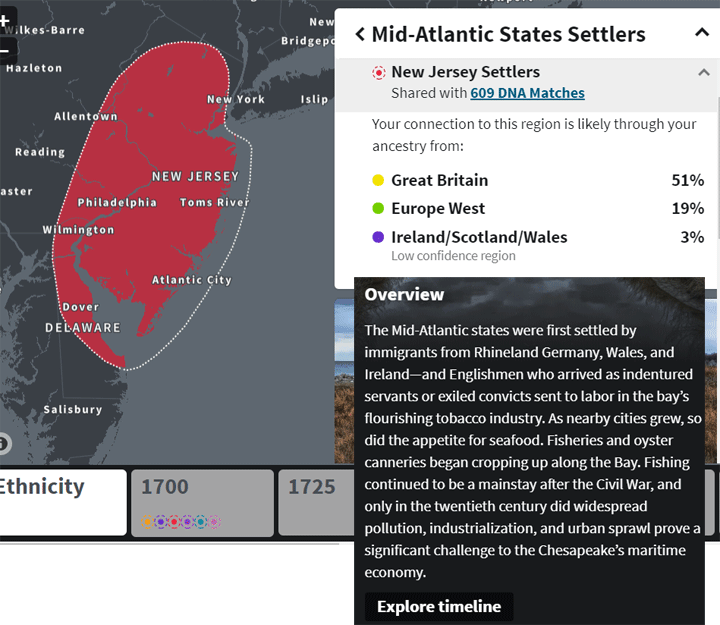 UPDATE 2-Sep-2018: If you do not have the new ethnicity estimates, you could briefly get them via the trick in this blog post: https://genealogical-musings.blogspot.com/2018/08/how-to-get-ancestrydna-ethnicity-report.html – although the trick no longer works, the post at least show us what to look forward to.
Also those with British ancestry might enjoy Debbie Kennet's report on the new ethnicity reports for her family: https://cruwys.blogspot.com/2018/06/updated-ethnicity-estimates-at.html
*A reference population is a regional population that represents ancestry from several hundred years ago as per 23andme at https://customercare.23andme.com/hc/en-us/articles/212169298-Reference-Populations.