Whenever a new study is published linking a specific gene or SNP to a particular trait or health risk I go rushing to my DNA results to see what I have, so I thought I would share how I do that.
My latest worry is my coffee drinking habit.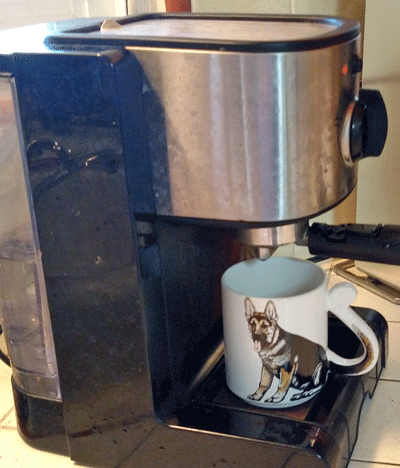 There are so many coffee and caffeine studies that I am totally confused about what I should be doing. One caveat is that most of these studies are far from comprehensive and all of them need to be taken with a grain of salt. Have they really factored out all the other possibilities that could cause this result? Let's face it, it's early days yet in understanding what specific genetic variants do.
Personally when I read one of these articles, the first thing I do is google that gene name to find the associated SNP's "rs" number so that I can find that variant in my results. For example let's look at  rs762551, a SNP involved in the metabolizing of coffee.
While it is easy to look up a gene or SNP if you have tested at 23andMe or GENOS by using their browse raw data functions, what if you have only tested at Ancestry.com
? Or Family Tree DNA, which has deliberately chosen not to test health related SNPs?
It's actually pretty easy to look up a SNP in your raw data if you have downloaded it.
Looking up a SNP in your Ancestry data
First of all, if you have not yet downloaded your Ancestry.com
DNA data, you need to do so. Click here for a youtube video. Or try this link https://stonefamilytree.wordpress.com/2014/08/03/how-to-download-your-ancestry-dna-test-results/ to see how to do that.
Next unzip the downloaded raw DNA data and open the resulting text file in your word processor or notepad. It will not open instantly because it is a big file, so patience is advised. Once it is open, search for the "rs" number but be careful to get the correct one as there may be a similar one with more digits. For example when I searched for rs762551, I found rs7625517 first, so had to search again. Look below at a cousin of mine's result: the two letters on the far right are her variant, so for example "A A" in this case.

Looking up a SNP in Family Tree DNA data
Click here for the Family Tree DNA download instructions (use build 37),  then you will need a program to extract from a Gzip file. They have links on that page for those. Personally I use 7zip.
The extracted raw data file is a CSV so you open it in Excel or whatever spreadsheet program you use. Then use the search function and no surprise, rs762551 is not tested by them.
How to find an RS number
How did I find this RS number? Googling of course. I tried looking for "coffee gene" and found this article https://news.northwestern.edu/stories/2016/10/java-gene-study-links-caffeine-metabolism-to-coffee-consumption-behavior/
Actually I used the search phrase "site:edu coffee gene" in order to get edu domains only, thus finding the more trustworthy sites, the ones unlikely to have reports blown out of proportion (fake news?).
And finally the coffee genetics
Eventually I found an article from the non-profit group Health Watch in Great Britain which explained the latest research in a way I could understand. It mentioned four specific SNPs: http://www.gbhealthwatch.com/Trait-Caffeine-Consumption.php
This article said that if you have an AA (or TT which is the same thing just reported differently) at rs762551, you are a fast coffee metabolizer and can drink many cups of coffee without endangering your heart. Sadly l am not fast, which I suspected since, as I have gotten older, I can no longer drink any coffee after about 11:30 a.m. without it keeping me up too late. Note that my cousin, whose ancestry data is shown above, can keep drinking her coffee! Norwegians love their joe…
Last year's study, mentioned in my google feed from a Seattle paper the other day, suggests that more than a cup a day may put me at a higher risk for heart disease, sigh. We switched to half caf long ago to get the benefits of the anti-oxidants without the caffeine, so I guess I can drink 2 cups of that a day. Other studies suggest that 3 cups a day can be protective against dementia and Alzheimer's but do not mention if the decaf is as effective. So what to do? Weigh one risk against the other I guess. Plenty of heart disease in my family's older members but no dementia until the mid 90s (and that only AFTER the heart disease).
Decaf after my two half caf cups is therefore my new choice.