Updated Chart February 18, 2017

The idea of a one world tree is to collaborate with other genealogists who are researching the same ancestors and so have just one copy of each person on the tree, rather than each of you having your own separate family trees. My plan is to compare the three online sites that I am using in this post.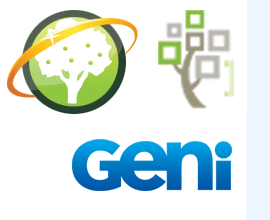 The advantages of using a one world tree are:
You are not constantly duplicating research that has already been done.
It is online and searchable so distant cousins will find you.
Other descendants of your ancestors may have pictures and documents to share that are already posted.
You will find distant cousins to collaborate with on some of your family lines who may be able to read records you are having trouble with or otherwise work with you to solve questions you have.
When you connect your line into the tree you may find new ancestors that you did not know about before.
You can often figure out immediately how you are related to a new "DNA" cousin.
It is easy to send family members and distant cousins links to the family tree.
After you are dead and gone your research will live on.
The disadvantages of a one world tree can be that:
Other people will change facts and information that you knew were correct.
How can you be sure that another person's research is reliable?
You need to be sure that living people have their privacy protected.
Personally, I have my family tree on three different one world tree web sites: FamilySearch.org, Geni.com, and WikiTree.com and I like and use them all for different reasons.
WikiTree has really pretty online charts, widgets for your website and shows DNA connections. It is the easiest one to use for sending possible new "DNA" cousins your family tree. GENI has the most intuitive user interface and has the best way to add source information. It is the prettiest of them all, plus it matches records with its partner site MyHeritage.com.  FamilySearch connects to its own enormous record repository and there is a wonderful third party web site for visualizing your familysearch tree: puzzilla.org.