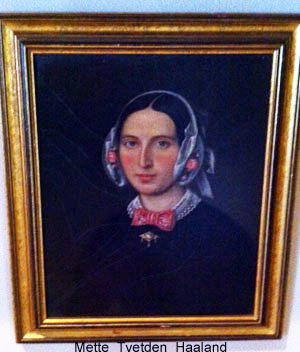 Back in the late 1800s our Norwegian ancestors and relatives came here in droves; about 80,000 Norwegians came before the Civil War and even more afterwards. Partially it was economic conditions in Norway but mainly it was due to the population pressures from improved medicine. The practice of dividing the farm among your boys does not work so well when you have ten children most of whom are now surviving to adulthood. So emigration to America was the solution for many.
Most of my relatives, like many Norwegian immigrants, settled out in the northern midwestern states: Illinois (Kendall County), Iowa (Story City), South Dakota and Wisconsin. However, my own ancestors stayed in New York. The ship's carpenter Monsens and my g-grandfather Henry (Halvor Hans) Skjold settled in the Norwegian section of Bay Ridge in Brooklyn, NY. Hans was known as Henry H. Lee in this country. He was the embodiment of the successful immigrant story (see this newspaper article ) making it big with his harbor businesses.
Two of his sisters, both named Anna, kept to more traditional endeavors and headed to Kendall County, Illinois with their husbands and children and farmed. We are in touch with the Stevenson descendants who have a yearly reunion in July in Illinois. We always wondered about the descendants of his aunt Mette Tvetden Haaland, his dead mother's half sister. She went to Wisconsin with her eight children and her husband Sjur who tragically died soon after arrival along with the baby. My Stevenson genealogist cousin and I had long since given up on finding her descendants. But along came DNA testing and suddenly I had some good matches in Dad's 23andme account with the surname Holland, could it be? Why yes!
Although I regularly log in and sort my DNA Relatives, 100 per page, by "most recent first," to see my new matches (Mondays and sometimes Thursdays for us) occasionally matches seem to change. So every once in a while I also sort by "contact status" and check all the "public matches" at the end of the list. To do that I click their name and see if I have already invited them to share in which case it says "Why can't I invite this user to share genomes?" instead of  "Invite persons's name to share genomes." That is how I discovered my Holland relatives. No less than three of them were tested at 23andme.
I heard back from two right away. One was traveling so not sure, but the other, Janice, said, "This is very exciting! I think we are related through Sjur Haaland (Holland) and Mette Tvedten. In fact, I have their oil wedding portraits in my home!" Mette's portrait is shown above; she is my gg-grandmother Marta's half-sister so Janice is my 4th cousin.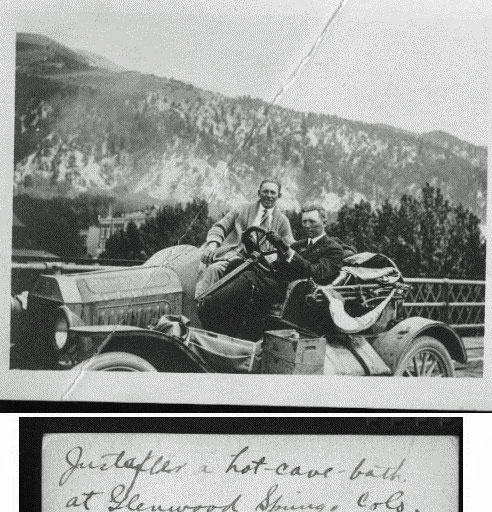 We quickly switched to email, talked on the phone, and Janice sent me many wonderful photos. I cropped and enhanced many of them and uploaded them all to GENI which already had her full family tree thanks to another more distant cousin (thank you John Terje). I think this one is my favorite. Her grandad (top fellow) took a road trip from Minnesota to California in 1915 – here is the stop at Glenwood Springs Colorado!
Now to plan a trip to meet her!