Often when I help someone find their biological father with DNA it turns out that he never knew about the pregnancy. His reaction when contacted varies greatly, perhaps his memories of the 60s or 70s are quite faint… Frequently his first question is "How did you find me?" Or "What makes you think it's me?"
Sometimes my answer is because a close relative of yours tested their DNA and helped us. More often I explain the basic methodology of pedigree triangulation that was used, as follows.
We look at the family trees of 2nd, 3rd, and even 4th cousin DNA matches to see what ancestors they have in common with each other. Sometimes we find two shared ancestral couples, then we look for the son of a person descended from one couple who married a daughter descended from the other couple.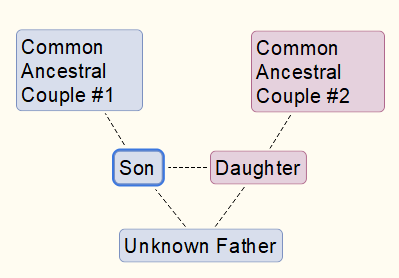 Other times we just find one ancestral couple and some common surnames. We build that couple's family tree downwards, looking for some of the other surnames we found until we find a descendant who was in the right place at the right time to be the missing father. There are a number of posts here describing specific success stories that are tagged Adoption Success Stories. Click here for my favorite and easy to understand story.
Click here for a more advanced explanation of pedigree triangulation with informative images from DNAadoption.org
Next we ask the found possible father to take a DNA test. To encourage him to use the testing company that his probable child used to confirm the results, rather than a commercial paternity test, I send the following plus more details of how he was found including images of the family trees.
Continue reading →