A week from Sunday I am doing a presentation on the value of DNA testing for Jewish genealogists at a local group, the San Diego Jewish Genealogical Society. I have a nice talk planned, but it is missing a key ingredient, some success stories from my own research.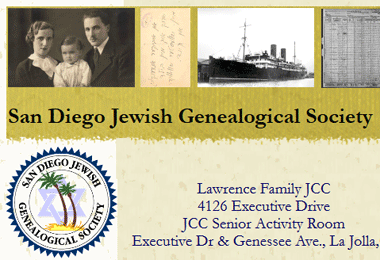 Thanks to some of my friends and fellow genetic genealogists I have a few good stories to share but if any of my readers have a success to contribute, please use my contact form to send it along!
While I have found over 30 new cousins on my Norwegian side with DNA so far, I have no confirmed cousins on my German and half Jewish side. It seems that genetic testing is not very popular in Germany. As my mother's family came here in 1935, that is where most of my non-Jewish matches would be.
The problem with the Jewish side is that Ashkenazim share so much genetic material from past cousin marriages and population bottlenecks, that we tend to look like 4th and 5th cousins to each other in our DNA. Even though I am only 25% jewish (actually 28% at 23andme), I share some DNA with my Galician Ashkenazi husband with whom I doubt I have any common ancestors for many hundreds of years. I have blogged about these issues before, just click the tag Ashkenazi to read a few of those posts.