There have been some good changes to the relative matching displays at 23andMe. Finally when I get a new match, I can quickly compare them to several other known relatives from that first DNA comparison page. One of the features I have always loved, that 23andMe has but not the other testing companies, is the ability to compare my matches to each other. Seeing how much DNA they share can often help resolve how they are related.
I was surprised and delighted to see that the granddaughter of my Dad's favorite brother got a DNA kit for Christmas and her DNA results are just in at 23andMe. So I will use her kit to show the new 23andMe displays. For privacy I will call her Nan.
When I click DNA relatives under Tools, the page it goes to no longer has two top tabs. Perhaps that confused many users. Instead there is a long sentence up top where the last few words are linked to the chromosome browser page that I like to use. I have put a red box around those words in the image below of Dad's best matches. Of course there are other better ways to get to that browser.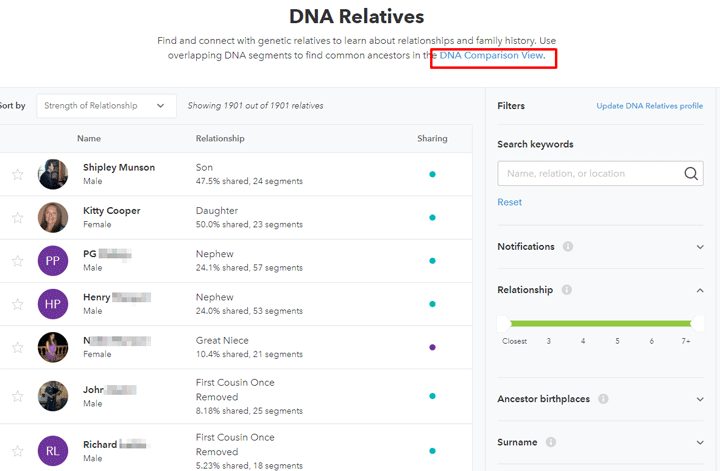 When Dad gets a new relative, I typically click on their name to see how they compare to him. That next page is the one that is vastly improved.
The first display shows a family tree style image of how 23and me expects you to be related based on the shared DNA. In Nan's case, it initially showed her as a first cousin. A great niece shares the same amount of DNA with you as a first cousin does, about 12.5% DNA . Since we know how Nan is related, I clicked on the "Edit relationship," indicated by my added red box below. Then I selected Great-Niece in the drop down set of choices and clicked the word save next to that. Now the tree display looks like this: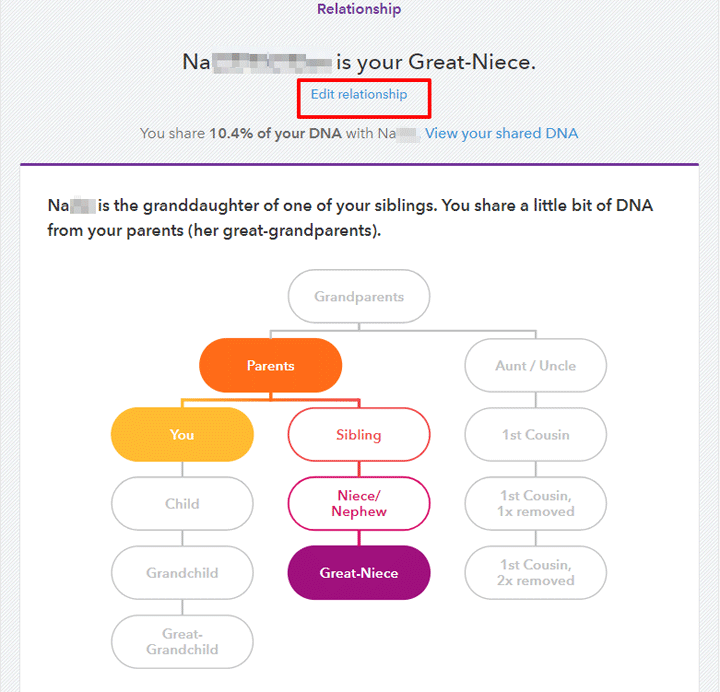 The ancestry composition comparison and listing of the relatives in common on this page have not changed. That last feature indicates whether your new DNA relative triangulates with any of the in common matches as discussed in my blog post on 23andme automated triangulation.
However the order of displays on this long page has changed. Now the chromosome comparison image, which lacks the features of the full chromosome browser, is at the bottom of the page. Here is the exciting part for me. The words "Compare segments with more people" at the bottom of that chromosome display lets you create a chromosome comparison page where everyone is compared to the new match.
I clicked on that "Compare segments with more people" and got to a DNA comparison page which had nothing much on it but as soon as I typed Munson into the box, Nan appeared as the base person and I was able to click my dad and brother over to be compared.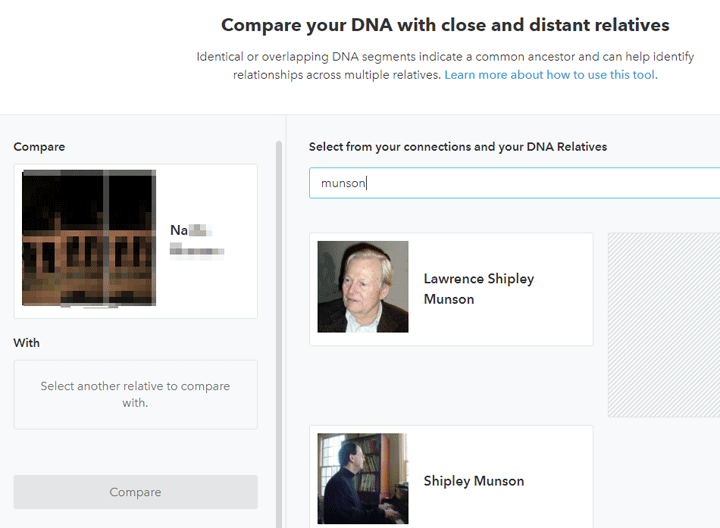 Next I clicked over myself and my two second cousins from different great-grandparents. Then I clicked the blue submit box below all the names in the left hand column. This got the five-way comparison shown below in 23andMe's beautiful chromosome browser.
Notice that putting your mouse on a segment brings up the details in a little box. All the numbers are listed at the bottom of the page, suitable for cut and paste, for those of us who use spreadsheets.
Now to look through all these segments and let Nan know which ancestor they are from! Of course, I will also send her the URL for all the posts on how to use the new 23andme features – http://blog.kittycooper.com/tag/23andme-new-site/