One thing I have always wanted when looking at my ancestry DNA matches was to list just the unstarred matches or matches that I have identified as being on a specific line. Well there is a new add-on for chrome called MedBetterDNA that will do that for you now, among other great features. Thank you Blaine for mentioning it in your Genetic Genalogy Tips and Techniques Facebook group today.
Another thing I love from this add-on is that it displays the notes you have made for this match directly on the match page so you no longer have to click each little notepad. Here is what my brother's page looks like now: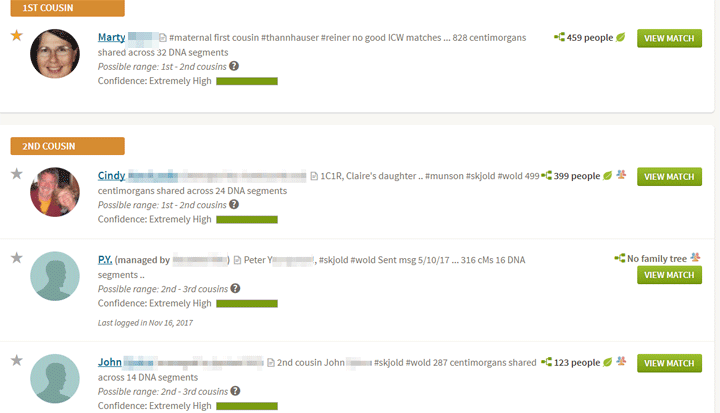 Notice the little multi-colored people icons next to the green leaves? That is from another chrome add on called the AncestryDNA helper and a mouse-over on those icons shows the DNA relatives in common, but that is another blog post not yet written.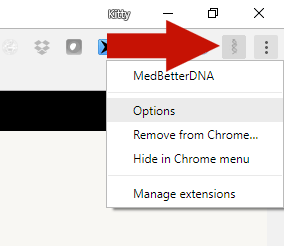 Back to MedBetterDNA (MBDNA), notice the hashtags in front of family names in my notes? Put a hashtag in front of a term in your note that you want MedBetterDNA (MBDNA) to find. So for example to see all the people assigned to my Munson line by the hashtag #munson in my notes, I clicked on the DNA icon for MBDNA in my browser top bar on the right and got a menu, as in the image to the left (the red arrow is added by me). Then I clicked on options and see a page called "Configure MedBetterDNA" with many options, most already checked for me. I added a check next to "always show Notes."
Next I typed #munson into the filter 1 field on this options page and clicked Save. Nothing happened. I refreshed the page (necessary). Still nothing. Do you see my error in the image to the right? I forgot to click the active button next to #munson, undoubtedly a feature so it remembers all the tags I want and only utilizes them when I check active, but it tripped me up. I also tried capitalizing Munson and putting a period after it in some of the notes to see if either of those were a problem. Both worked fine. In the image below you can see my top four #munson family members using that filter.
You can see that both starred and unstarred matches are checked above. Uncheck starred to see those that are not starred. Why might you want to see the unstarred matches? When you have starred all the shared matches with a person and want to look at the ones you do not share.
For example, when I am doing a "who is my daddy" search with a maternal half sibling tested, I star all their shared matches out to "confidence high" 4th cousins. Then I look through the unstarred ones, most of those will be from the unknown Dad's side. Of course, I can also do this by using the "m_" spreadsheet from the GWorks client and sorting by the starred column. I often use a trimmed down version of that spreadsheet to keep track of my research on those matches.
What if you have multiple browser windows open for different people's matches? Yes, when you click to a new screen in another window it will use those same settings and you will see something like below, Where did all my matches go? Of course, there are no #munson in any notes on that page!
So do not be surprised! Just reset those options and save. You might enjoy the discussion about this tool at Blaine's group on Facebook which includes the pointer not to capitalize in the filters. Thank you Michael Devore for this wonderful tool!
UPDATE 13-Jan-2018: The developer has released 2.1 which fixes the capitalization problem and adds a 4th field see https://devoresoftware.blogspot.co.uk/2018/01/medbetterdna-bugfix-and-minor.html?m=1 and what's more it automatically updated itself which most chrome add-ons will do.