There is a Valentine's Day Sale at 23andme.com for American users, $20 off for up to two kits until Feb. 14 which brings down the price for the ancestry only version to $79, more in line with the other companies.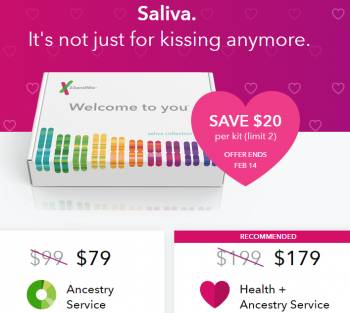 In other news, rumor has it that non-American users will finally be transitioned to the new experience in the next few months. If anyone from 23andme is at Rootstech this week, I will ask for more specifics on that.
Meanwhile there are several new features at 23andme for those of us, Americans, on the new experience:
The automated triangulation feature now shows all DNA relatives, not just open sharers, and includes anonymous users with a link to request a share.
Ancestry composition includes a timeline indicator making a guess as to when your ancestor with that ethnicity might have lived.
Click the read more for the details on these. I confess, I am at Rootstech right now, so not there is not much time to write about these in depth, just a few thoughts and images.