Each year at Rootstech seems better than the last. How they will top this year's I cannot imagine. 'My favorite thing' was the Rogers and Hammerstein musical evening with the Tabernacle Choir, narrated by Oscar's grandson Andy Hammerstein, which included learning a bit about the history of that remarkable family.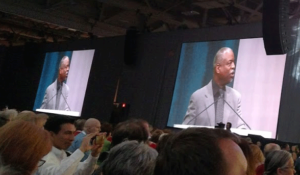 Other high points for me were actor LeVar Burton's keynote talk (found online by Roberta Estes – click here), DNA expert Cece Moore's keynote talk, and numerous really great presentations.
I particularly enjoyed meeting in person many people that I only knew from emails or by reputation like Curtis Rogers of GEDmatch, Dr. Yaniv Erlich of DNA.land, Gilad Japhet of MyHeritage, David Nicholson of Living DNA, and Louis Kessler of Double Match Triangulator (DMT see below).
Innovator Showdown
Another thing I really love at Rootstech is learning about the new products for genealogists, particularly those which compete in the innovator showdown.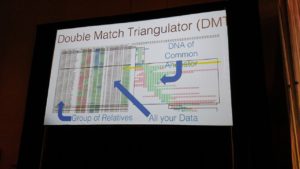 I was really pleased to see a DNA tool make it to 3rd place, the Double Match Triangulator by Louis Kessler. This is a tool that lets you compare two match lists from family Tree DNA, giving you real triangulation. I mentioned it in my talk and will blog about it soon. A semi-finalist product that I found quite interesting, was the Cuzins android app which uses the familysearch world tree to show you how any two celebrities are related. Friends will be added soon.
News from the Genealogy Companies
There were many exciting announcements of new features from all the big companies which will provide material for several weeks of more detailed blog posts. Here is a quick list