There is a new tool, a chrome add-on called DNArboretum, that will generate an ahnentafel ancestor list from a Family Tree DNA tree or from the old format 23andme tree (not myHeritage).
An ahnentafel is a very clever and condense way to show all your ancestors. When trying to match up with a DNA relative it is particularly useful since you can quickly scan their ahnentafel for places and names in common. Obviously it would be better to automate that comparison but with misspellings and Norwegian names that has not worked well for me. However it might work for you, so click here for my blog post about how to use automation to compare GEDcoms.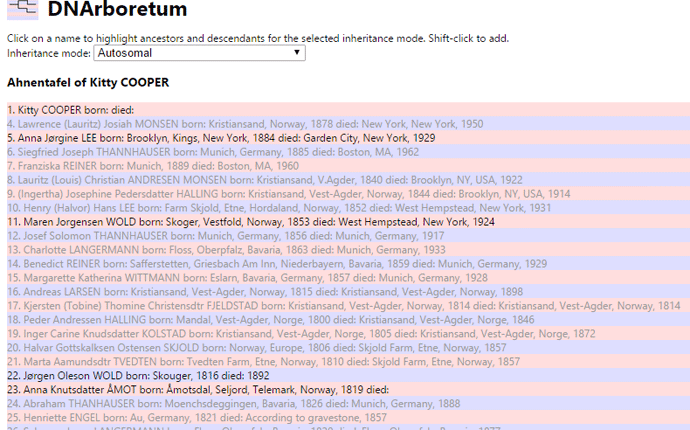 This is part of my ahnentafel as generated by DNArboretum from my tree at Family Tree DNA when logged into another account there. I clicked on my great grandmother Maren Wold and it bolded all her ancestors and descendants. Note that my parents are missing because they are marked private.
Sue Griffith of Genealogy Junkie has blogged in detail about how to install and use this tool at
http://www.genealogyjunkie.net/blog/dnarboretum-a-great-free-google-chrome-extension-for-viewing-trees-on-23andme-old-style-trees-and-ftdna